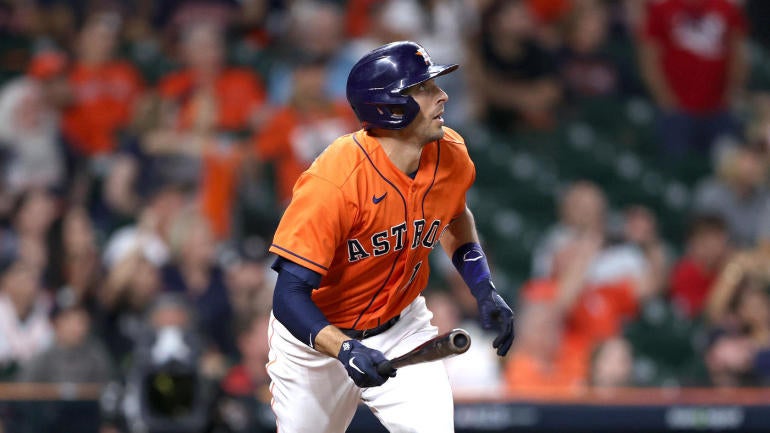 Getty Images
The Houston Astros have lost their No. 2 catcher and one of their top pinch-hitting options. Veteran backstop Jason Castro has been removed from the roster under the league's COVID-19 protocols, MLB announced prior to Game 4 on Saturday. Catcher Garrett Stubbs has taken his place on the roster. It's unclear whether Castro tested positive.
Unlike a true baseball injury, players removed from the postseason roster under the COVID protocols can be activated at any point once they are approved by MLB's Joint Committee. Being placed on the COVID list does not necessarily end Castro's season, though with only four games remaining at most, time is tight.
When a player is removed from the roster with a baseball injury, he must miss the following the series and can only be activated between series. Castro's season would have been over with a baseball injury like, say, a hamstring pull. With the COVID protocols, he can return as soon as the Joint Committee gives the thumbs up.
Castro, 34, is Houston's backup catcher behind the light-hitting Martin Maldonado, though he has pinch-hit five times this postseason. That includes his pinch-hit go-ahead single in the ninth inning of ALCS Game 4 against the Red Sox. Castro hit .235/.356/.443 with eight home runs in 66 regular season games. Stubbs has appeared in 51 regular season games the last three years.
Earlier this postseason the Braves lost outfielder Jorge Soler to a positive COVID test. He was removed from the roster prior to Game 4 of the NLDS against the Brewers, then he was activated prior to Game 5 of the NLCS against the Dodgers.
Atlanta holds a 2-1 series lead heading into Game 4.