On Sunday, The DePaulia reported that a St. Patrick's Day party held by DePaul students violated multiple Covid guidelines. DePaul fraternity members from Sigma Chi and Sigma Alpha Epsilon attended the party, confirmed by numerous sources. Additional DePaul Greek Life chapters have since been identified attending the superspreader party, including the executive board members in the sorority Delta Gamma. 
The Delta Gamma VP of Social Standards, Catherine Grace Mirich, and VP Panhellenic, Alyx Eckerman, attended the party along with other sorority members, confirmed by multiple sources. Mirich did not respond by publication and Eckerman was unable to be reached for comment. 
Numerous sources sent the DePaulia videos and photos of members at the party, which have now been deleted from their respective Instagram stories. 
According to Delta Gamma's national pandemic code of conduct, "The purpose of this code is to educate collegiate members on how to best minimize the risk of spreading COVID-19 in a Delta Gamma chapter facility, within their chapter, and on their campus. This code addresses the required safeguards for collegiate chapters of Delta Gamma Sorority to avoid, slow or stop the spread of COVID-19 among our collegiate members."
Delta Gamma Pandemic Code of Conduct by DePaulia on Scribd
While the state's Covid rate has decreased as more vaccines are being administered, all Delta Gamma members signed the code of conduct at the beginning of the academic year, which contractually requires members abide by all federal, state and local guidelines. 
In Chicago that means continuing cautious behavior including limiting crowd sizes and wearing masks in public. State epidemiologists also warn about emerging Covid variant strains that may be more infectious. 
As the VP of Standards, Mirich is responsible for enforcing the code of conduct, which she violated herself. 
Additionally, Eckerman's job as VP of Panhellenic is to represent DePaul's Delta Gamma chapter.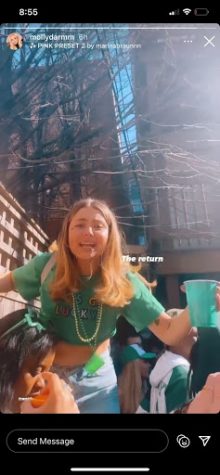 A member of Delta Gamma, who wishes to remain anonymous, reached out to The DePaulia to voice their concerns after learning that the posts were being actively deleted in an attempt to mitigate any damages. 
"I would really like for DG to be called out on this, as it wasn't addressed very much in our chapter today, and as soon as the president got wind of [the] story frantically started texting members to delete things so that pictures of our chapter wouldn't be featured," the student said.  "Instead of addressing the issue, we acted as thought [sic] it was just a cover up, which is not okay."
While various students from DePaul's Greek Life attended the party, members especially critiqued those in leadership positions for taking part.
"I just want DG and it's members in leadership positions to be held accountable for their actions. I think this would be a great wake up call, and don't want them just brushing another issue like the pandemic under the rug, like we've done so many times before," the student said. 
"A few other members were there, but none of the magnitude to leadership that those girls specifically had. I just want them to be held accountable for their actions, as so many members have posted Instagram graphics like 'the pandemic isn't over' and then behave like this," the source added.
Although numerous students attended the party, the photos and videos submitted show a majority of party goers, like Mirich and Eckerman, were white.  
Covid disproportionately affects people of color. The Mayo Clinic reports that there are numerous factors that contribute to the disproportionate rate at which people of color contract Covid, including long standing issues attributed to racism. 
Not only are people of color more likely to contract Covid, they are also less likely to recover from it than white people. 
Additionally, even as vaccines roll out throughout the nation, residents of color are less likely to receive a vaccine over white ones.
According to a university spokesperson, Kristin Mathews, "DePaul takes COVID safety compliance very seriously, and the administration follows up on all reports of guidelines not being followed. DePaul students have been asked to take a health and safety pledge as part of an ethical and caring community. All DePaul students are expected to follow the university's safety protocols on campus, and they must also adhere to both Chicago and Illinois COVID-19 restrictions."
"All incidents referred to the Dean of Students Office are reviewed on a case by case basis. Should a student or organization be found in violation of policy, information on the range of sanctions can be found below in the Code of Student Responsibility," Mathews added.
Conduct sanctions include restricted participation in extracurricular activities, suspension or dismissal depending on the case. 
The DePaul Panhellenic Council, the governing body of the university's sororities, also posted a statement to their instagram story Sunday.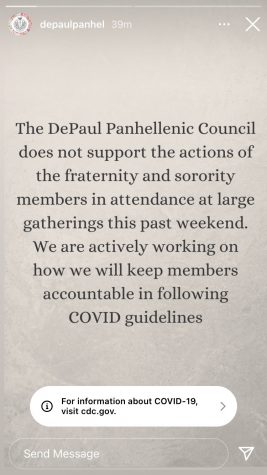 "The DePaul Panhellenic Council does not support the actions of the fraternity and sorority members in attendance at large gatherings this past weekend. We are actively working on how we will keep members accountable in following COVID guidelines," the statement read. 
According to Molly Adams, the president of the DePaul Panhellenic Council, "We are actively working to come up with an action plan… We hope to hold our members accountable for their actions and also provide more resources to prevent this from happening in the future."
Additionally, members who violate Delta Gamma's pandemic code of conduct may face repercussions from the chapter.
"[The] Honor Board may intervene if a Member is not isolating from other large, in-person social situations and only from chapter events," the contract reads.
"Delta Gamma Fraternity is committed to providing opportunities for true sisterhood and connection among members while keeping health and safety at the forefront of all decisions," it reads. "Guidelines have been created with our Culture of Care in mind and allow for members to hold each other accountable for any actions or behaviors that risk the health of members and their campus communities. Ultimately, all members must understand they are accountable for their behavior with respect to the health of other members."
Members who continue to uphold the chapter's Covid guidelines condemned those who violated not only the code of conduct, but DePaul's health and safety guidelines as well. 
"I cannot stress how bad it looks to have our social standards representative guilty of violating the code of conduct regarding the pandemic. DePaul's Greek Life needs to do better, and I'm embarrassed to be associated with the community responsible for this," the Delta Gamma member added.