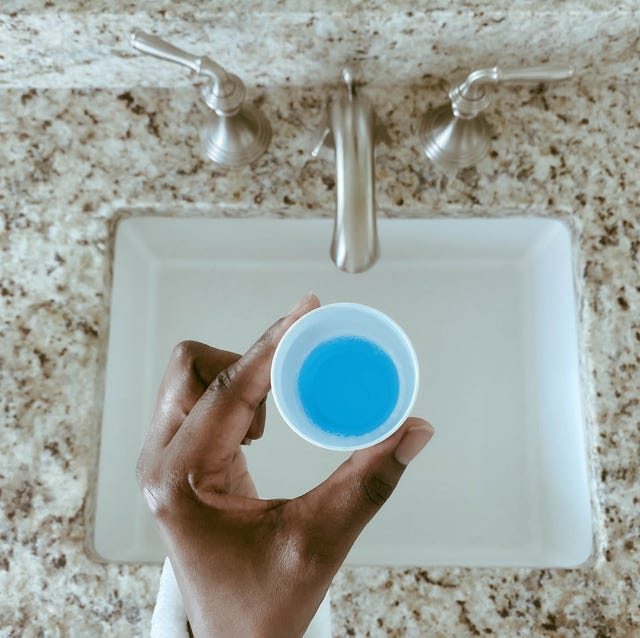 Grace CaryGetty Images
Choosing the best mouthwash can be likened to shopping for underwear: It's a very personal journey that takes lots of trial and error. There are mouthwashes with and without fluoride, for bad breath, and for gum disease. Then there's the taste and flavor factor. Your go-to will depend on what your mouth (and tastebuds) need. But one thing's for certain—regardless of the kind, everyone should use a mouth rinse twice daily, says Brian Harris, D.D.S., D.M.D., lead medical advisor for SNOW and Frost Oral Care.
"The goal of every mouthwash is to freshen breath and remove bacteria and other food particles from the teeth," he explains. "When used in conjunction with regular brushing and flossing it provides a healthy and clean oral environment."
Plus, the daily swish helps prevent some serious oral issues "before they can even arise," adds Gary Silverstrom, D.D.S., a dentist practicing in Livingston, New Jersey. "Some of these issues include, but are not limited to, gingivitis, gum disease, plaque, and decay." But how is one to know which is the best? We're glad you asked.
How we chose the best mouthwashes
We consulted Dr. Harris, Dr. Silverstrom, and Erin Issac, D.M.D. a board-certified pediatric dentist practicing in Pittsburgh, along with customer reviews to narrow down the best mouth rinses for various needs.
Our top picks
Now, to discover your best oral health yet, scroll on and meet your perfect mouthwash match.
Advertisement - Continue Reading Below
1
Best Overall
Restoring Zero Alcohol Fluoride Mouthwash
Alcohol-Free
Great Taste
Affordable
Users say it has a slight burn
Dr. Issac says fluoride-containing mouthwashes "can help you strengthen and remineralize the teeth, lowering the chance of getting cavities." That's why she recommends this one, which is alcohol-free and has a great taste, according to dozens of Amazon shoppers.
"It has a good minty flavor without being too strong," one reviewer writes. "My dental hygienist noticed a significant improvement between 6 month cleanings."
2
Best Mouthwash for Gums
Pro-Health Mouthwash
Alcohol-Free
Affordable
Fluoride-Free
Users say it has an odd aftertaste
This multi-tasking rinse will take care of it all: bad breath, plaque, and gum disease with the active ingredient cetylpyridinium chloride. Plus, it's alcohol-free, so you won't have to feel the burn. That's why it's a go-to for Dr. Silverstrom.
3
Best Mouthwash for Bad Breath
Fresh Breath Oral Rinse
Alcohol-Free
No sting
Eliminates 12 hours of bad breath
Users say it can temporarily alter sense of taste
There's a reason this rinse went viral on TikTok—it has some serious breath-freshening powers. And those are all thanks to its dentist-formulated and patented Oxychlor compounds. Plus, peppermint essential oil keeps the flavor easily swishable for longer than a few seconds.
With over 35,000 Amazon reviews, the mouthwash maintains a 4.6-star rating. "This stuff is a miracle!" one shopper writes. "After 1 use, my husband's breath was fresh, no after-odor. A few hours after his first use, his breath was still fresh."
4
Best Alcohol-Free Mouthwash
Alkalizing Balancing Mouthwash
Natural ingredients
pH-Balancing
While many of our top picks are free of alcohol, this one from Dr. Issac is special. It's a pH-balancing formula that "uses a few different ingredients—like xylitol and sodium bicarbonate—to inhibit growth of bad bacteria and balance the pH of the oral ecosystem," she explains, adding: "When the pH balance of the mouth is out of whack, it makes it much easier for dental decay to occur."
That's why she doesn't usually recommend rinses containing alcohol, especially for kids, because they might kill off good bacteria the mouth needs to fight off the bad ones.
5
Best Whitening Mouthwash
Pro-Health Advanced Extra Whitening Mouthwash
Multi-Tasking benefits
Great Taste
Users say it has a slight burn
This rinse has all of the multi-tasking benefits of the regular Pro-Health formula (plaque clearing, gum disease and bad breath preventing) plus the added bonus of teeth whitening. "I always get asked how I keep my teeth so white," one reviewer writes. "This is it!"
6
Best Anti-Cavity Mouthwash
Total Care Anticavity Fluoride Mouthwash
No sting
Contains fluoride
Some users dislike the spearmint flavor
Dr. Silverstrom recommends this fluoride mouthwash as a go-to for cavity prevention. It strengthens teeth, zaps bad breath, and contains zero alcohol.
"My dentist told me to use this product when I first started going to her," one reviewer writes. "I haven't had one cavity since."
7
Best Mouthwash for Kids
Bubblegum Burst Mouthwash
Great for kids or folks who love bubblegum, Dr. Harris recommends Frost's Bubblegum Burst. Gentle fluoride combined with hydroxyapatite and a special herb blend makes for a slightly sweet, no-sting formula. "It tastes great and kids love it!" he says.
8
Best Mouthwash Tablets
Ready! Tabs
Travel-Friendly
Great taste
Minimal oral health benefits
There's nothing quite like running late or hopping off a red-eye with that slimy mouth feeling. These convenient, on-the-go tabs turn from a solid to a liquid in seconds, giving you the swishable refresh you need. They're also safe to swallow. But it's important to note that these are more for bad breath than anything—they aren't an effective gum treatment or cavity prevention.
"They make your breath smell fresh and mouth feel clean, and don't leave behind any heavy film or unpleasant coating," one Amazon reviewer raves.
9
Best Mouthwash for Seniors
Natural Mint Mouth Rinse
Klēn
Natural ingredients
Sleek packaging
Dr. Harris recommends this mouthwash to most adults "because of its natural ingredients and taste," he says. "It contains essential oils which neutralize sulphur compounds and give you fresh breath."
The key ingredients are aloe leaf extract, which acts as an anti-inflammatory, and tea tree leaf oil to promote a healthy oral microbiome.
How to choose and use the best mouthwash
Pour, gurgle, and spit might seem like a no-brainer, but there's more to rinsing than meets the eye. Here are some expert-backed tips for shopping and keeping your mouth clean.
✔️ Avoid high alcohol content: Alcohol is responsible for the fiery burn many washes leave in your mouth. "It may feel like it's working, but it can actually be doing more damage than good," explains Dr. Harris. "It can dry out the oral tissues. Most toothpastes contain anionic compounds, and mouthrinses contain cationic compounds. When combined, the reaction creates a drying effect in the mouth." Alcohol can also create an imbalanced oral microbiome, eliminating the good bacteria it needs.
✔️ Pay attention to active ingredients: "Some key ingredients to look out for in mouthwash can be fluoride, cetylpyridinium chloride, chlorhexidine, different kinds of peroxides," says Dr. Silverstrom. "These all depend on what your current dental needs are and which would help those needs the best."
✔️ Rinse twice daily: Both morning and night, ideally after brushing and flossing, says Dr. Harris.
This content is created and maintained by a third party, and imported onto this page to help users provide their email addresses. You may be able to find more information about this and similar content at piano.io
Advertisement - Continue Reading Below