Steve Milloy, a guest commentator on Fox News, said that the smoke-filled air in New York City has no health risk despite being "ugly" and "unpleasant" to breathe.
Wildfires in Canada sent clouds of heavy smoke into the atmosphere, blanketing New York City this week. New York residents were advised to wear face masks outside as one way to prevent respiratory issues. The city was covered in an orange haze and its air quality was ranked as the worst in the world. Scientists estimate that breathing the city's smoke-filled air is equal to smoking six cigarettes a day.
However, Milloy insisted that the air quality poses no health risks and said that the Environmental Protection Agency (EPA) conducted clinical research on asthmatics and on the elderly, including those with heart disease, and children that showed no "cough or wheeze" from any of them.
"We have this kind of air in India and China all the time. No public health emergency speaking," he said during an appearance on Fox News' Ingraham Angle on Wednesday.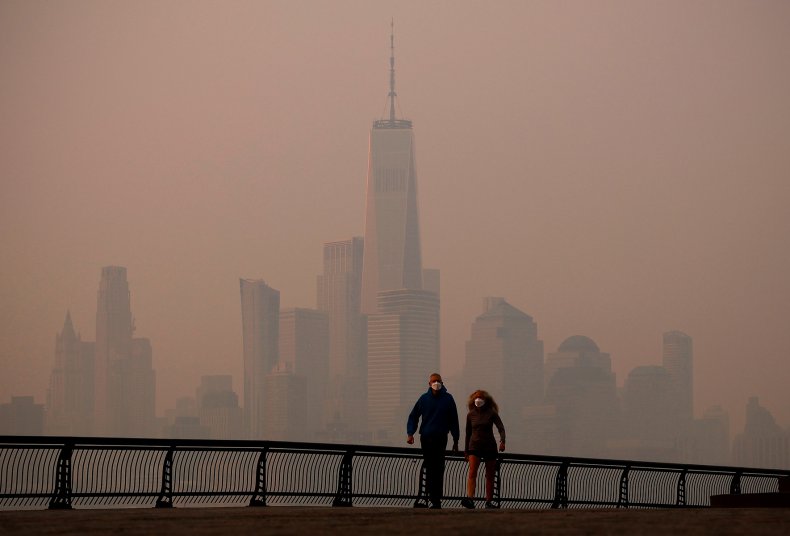 The Air Quality Index in some parts of New York is over 300 on the scale as of Thursday morning, which is classified as "hazardous." According to a 2020 Stanford University study, an index reading of 20 is the same as smoking one cigarette a day. Each cigarette shortens a person's life by 11 minutes, according to the National Institute of Health. This means that if the smoke in New York City really is equal to smoking six cigarettes, New Yorkers could have already lost an hour of their life.
Still, Milloy, a science commentator, said on Wednesday: "This (New York City's smoke-filled air) is like clean air in China. It's really that in the winter they never turn on their scrubbers for the air pollution because they don't care. This doesn't kill anybody. This doesn't make anybody cough. This is not a health event. This has got nothing to do with climate...this is wildfire smoke. This is natural. This is not because of climate change, fossil fuel [or] internal combustion engines."
Milloy received backlash from Twitter users for his remarks, with political scientist Lindsay P Cohn saying that particulate pollution such as smoke is a "leading cause of death worldwide." Cohn cited a report by Our World in Data which stated that air pollution is attributed to 11.65 percent of deaths globally.
Humorist George Hahn wrote: "Dear Fox News Staff and Guests: Please start smoking. By your logic and reasoning, the experts who claim this smoke is harmful are also probably wrong about cigarettes."
"Fun fact: The Fox News fake expert who declares that there is no health risk from wildfire smoke has also long been paid by the tobacco industry to downplay the health effects of cigarette smoke," tweeted Nathan Robinson, a political commentator and the editor-in-chief of Current Affairs magazine.
Milloy became the executive director of The Advancement of Sound Science Coalition in 1997. The group was launched by tobacco company Phillip Morris that reportedly aimed to disprove scientific facts that revealed the harmful health effects of smoking, according to Climate of Denial, a non-profit that tracks local and national climate change denial.
In similar remarks to Milloy's, conservative TV host Greg Kelly also downplayed the impact of New York's air quality on Wednesday.
"I'll tell you, it actually smells like wood smoke. It's not an unpleasant odor, to be honest. It's kind of weird when it seeps into the building, but outdoors, I can deal with it," he said during a segment on his Newsmax show. "Folks with respiratory issues though, that's a real thing, a real complication."
Kelly continued: "The White House is trying to exploit this, saying it's all because of global warming and the normal talking points that go with that. I don't think that's the case. I think it's a forest fire. This actually has happened a couple of times before in history. And for the time being, we can live with it. But it is pretty, it actually is pretty. It's a beautiful, interesting aura the city has right now."
Newsweek reached out to the EPA, air quality experts, and medical expert Dr. March Siegel via email for comment.
Update 1/8/2023 at 2:44 p.m. ET: This article was updated to better reflect that Milloy was a guest commentator on Fox News and not a paid employee of the network.