Article content
It was a challenging day, full of hills to climb and mud to wade through, but the final Heart Breaker fundraiser Saturday at Malden Park was packed with inspiration.
Article content
The event tested 850 participants on a seven-kilometre course with 23 fun and challenging obstacles to overcome, including flipping tires, crawling over nets and sliding down waterslides.
Article content
Team SISU, a group of 14 representing Hotel Dieu Grace Healthcare rehabilitation, were motivated to participate by a patient they cared for.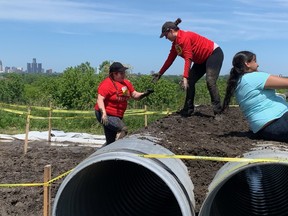 "Our team was inspired from a patient of ours," said Lisa Reshwen.
"He was on our unit. He was unable to walk and when he left he was walking with a walker. It was kind of a miracle story."
Teammate Katrine Stolarchuk said the man told them the word sisu roughly means you have the ability to persevere and you have the strength to persevere, in Finnish.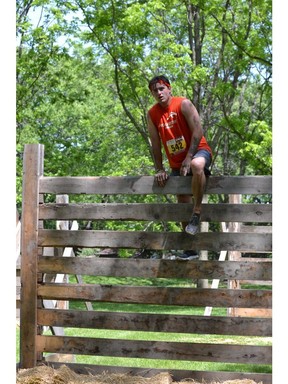 "We're in for challenging events because we see how challenged our patients are every single day, what we put them through and what they put themselves through to try to get themselves better and progress every single day," Stolarchuk said.
Article content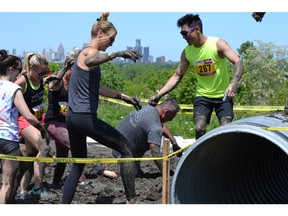 "So if we can experience that toughness as well and overcome that, it kind of helps us relate a little bit better with them."
Co-event leads Heidi and Jason Petro said it was the eighth and last year for the Heart Breaker Challenge.
"We're hoping after today's event we'll eclipse the $900,000 mark for all eight years," Jason said.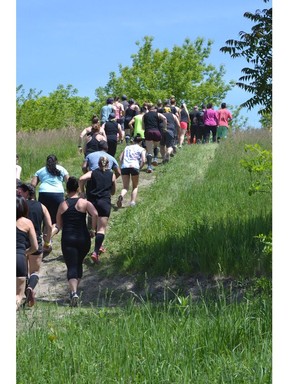 "It's the perfect weather for this event today, not too hot, not too cold and no serious thunderstorms in the forecast," Heidi said.
"The team spirit here is fantastic," she added. "We really do try to encourage team work and participation as part of the obstacle challenges.
"We want it to be a fun experience for everybody."
The Heart Breaker Challenge raises funds for the cardiac, stroke and pulmonary rehab programs at Hotel-Dieu Grace Healthcare.