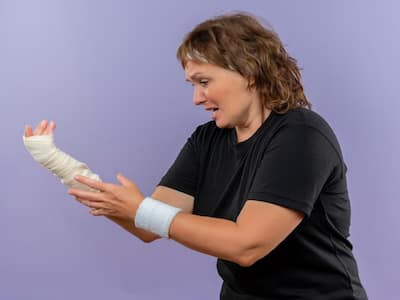 Have you recently undergone hand surgery? Here are a few things you need to keep in mind to ensure optimal recovery.
Hand surgery serves a range of purposes, including addressing hand infections, injuries, and chronic conditions that affect the hand. Surgical intervention can focus on various areas of the hand and is recommended for rectifying problems with either the bones or soft tissues. It is crucial to strictly adhere to the instructions provided by your surgeon to improve the surgery outcomes.
Here, Dr Nilesh G Satbhai, Head of Department, Plastic, Hand and Reconstructive Microsurgery and Transplant Surgery, Global Hospitals, Mumbai, talks about the possible side effects after hand surgery and why rehabilitation is important.
What to expect after hand surgery
The recovery process following hand surgery varies significantly depending on the specific procedure and the underlying cause of the hand condition. In certain cases, additional surgeries may be required. Considering the hand's complexity and sensitivity, it is common to experience varying degrees of pain following different types of hand surgeries. To manage this discomfort, pain medication may be prescribed. After hand surgery, your hand may be wrapped in a bandage or splint to keep it still. The duration of this immobilization will be determined by your doctor. In certain cases, the hand may need to be immobilized during nighttime for several months to aid in recovery.
Your physician will also determine any limitations on activities and work post-surgery, based on your specific circumstances. To improve the strength and function of your hand, rehabilitation may be recommended. This can involve physical therapy and/or occupational therapy, with a specialist overseeing your care to ensure optimal recovery.
Why is rehabilitation required after hand surgery?
Treatment for the hand may encompass various methods such as hand exercises, heat therapy, massage therapy, splinting, traction, bandages to reduce swelling and nerve stimulation. Surgery alone is not sufficient for recovery; intensive rehabilitation is often required to restore optimal hand functioning. It is crucial to adhere to the instructions provided by your surgeon and other healthcare professionals involved in your treatment.
Possible side effects one may experience after hand surgery?
Anesthesia and bleeding are common risks across most surgical procedures. However, the potential hazards linked to hand surgery are contingent upon the specific operation undertaken and can encompass infection, inadequate healing, diminished sensation or movement in the hand or fingers, as well as the formation of blood clots. One doesn't have to worry as the side effects usually are minor and the person recovers well.
Things to keep in mind before undergoing hand surgery
In the event that surgery is planned, you will be provided with detailed and tailored instructions. Adhering to these instructions, along with the general guidelines prior to, during, and after surgery, can contribute to a seamless and effective treatment journey.
It is essential to clear all your doubts regarding the surgery with the help of an expert before undergoing surgery.
Total Wellness is now just a click away.
Follow us on