A toddler is bringing the laughs by taking a dip in a puddle of mud, garnering a lot of appreciation from viewers with his actions.
The viral TikTok captioned "My mans needed some self-care time and didn't want questions asked #toddlersoftiktok #toddlersbelike #selfcare #selfcaretiktok #metime," has been viewed 5.5 million times and liked 513,000 times since it was shared on April 18.
The 27-second clip, posted by TikToker @pypersnyper, or Haleigh Ellis, began with her son, who was all dirty on his back from mud, standing outside in the muddy grass.
"What?" his mother, who filmed, asked her son.
The toddler had a finger to his mouth saying, "Shh" as they stood outside in front of a gate.
"Where are you going?" his mother asked the toddler.
The boy again shushed his mother twice in between her asking him where he was off to as he opened the gate and closed it behind him.
After going beyond the gate, he proceeded in the mud toward a puddle of water in the grass, turning around to face his mom as he sat in the muddy water with his mom filming from behind the gate.
"Wheezing: What?" the screen read in text overlay.
Eventually, the toddler laid down with his entire back and body in the puddle, opening up his mouth and breathing a deep sigh as his mother zoomed in.
"Deep sigh of toddler relief," the screen said.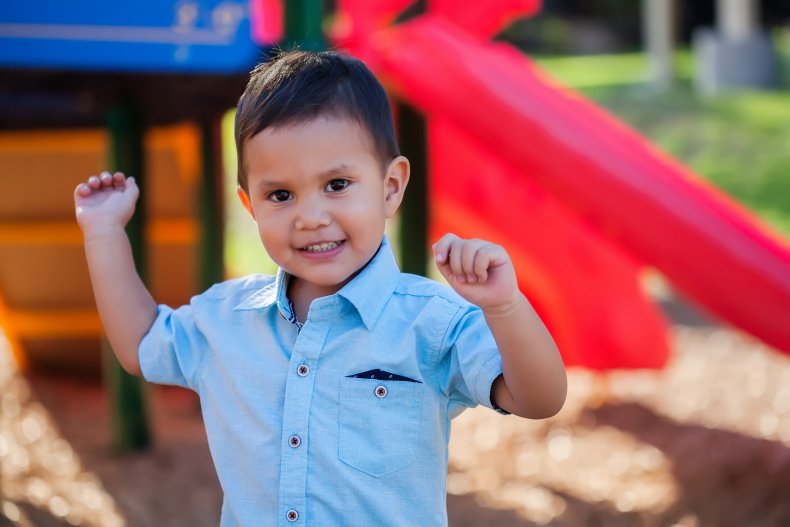 His mom just watched and laughed as her son kept still in the puddle of water, which was seemingly like a relaxing mud bath.
"Wheezing mom laughter," the screen read before the clip cut off.
More than 12,000 comments poured in over the toddler's viral self-care moment, and people highly approve of the situation. "It's so wonderful to see a child being a child and a mom letting him," a TikToker said.
Some people thought the behavior should be adopted by others. "Every adult needs to do this till they relax too!" a viewer wrote.
One person thinks the situation will "increase" the child's "immune system," adding, "To the person who allowed him to do that, thanks [for] letting them live [and] have a messy moment."
A viewer thinks the bath is essential. "Everyone needs a little mud bath spa moment every once in a while," they expressed.
Another TikToker found the humor in the toddler's actions. "I don't think adults realize how extremely difficult it is to be a toddler," they said with smiling emojis.
Comments of appreciation included things like "True innocence, love it," and "This is so cute."
Other viewers thought the boy was practicing grounding, which, according to Healthline, is also known as earthing. It's considered a "therapeutic technique" entailing doing things that "ground, or electrically reconnect" one to the earth. Types of grounding include walking barefoot and lying on the ground.
"He's grounding and telling you not to disrupt the peace," a viewer suggested.
Newsweek reached out to TikToker @pypersnyper for comment.
This isn't the only recent viral moment involving children. A child was dragged by a leash on the ground at an airport in a TikTok video. A number of kids were scared by the Easter Bunny in a surprise visit. In addition, a toddler danced to an Eminem song in a viral clip.
Statista reports that in 2020, there were 23.2 million children in the United States ranging in age from 0 to 5 years. The website also reports that the average number of kids under 18 in households with children in the country in 2020 amounted to 1.93 children per home.