Salford
Where to find the best sandwiches in Manchester city centre and beyond




Georgina Pellant




There's nothing better than a good filling between two fluffy slices of bread, and we're here to tell you the best places to find them.
From hot roast sarnies and hefty subs as long as your arm, to solid breakfast butties, giant Sardian schiacciata and saucy Napoli-inspired cuzzetiello, if you're a sandwich lover in Manchester then you're well catered for.
Keep reading to find some of the best places to get a sandwich in Manchester and beyond.
Ad Maiora, Northern Quarter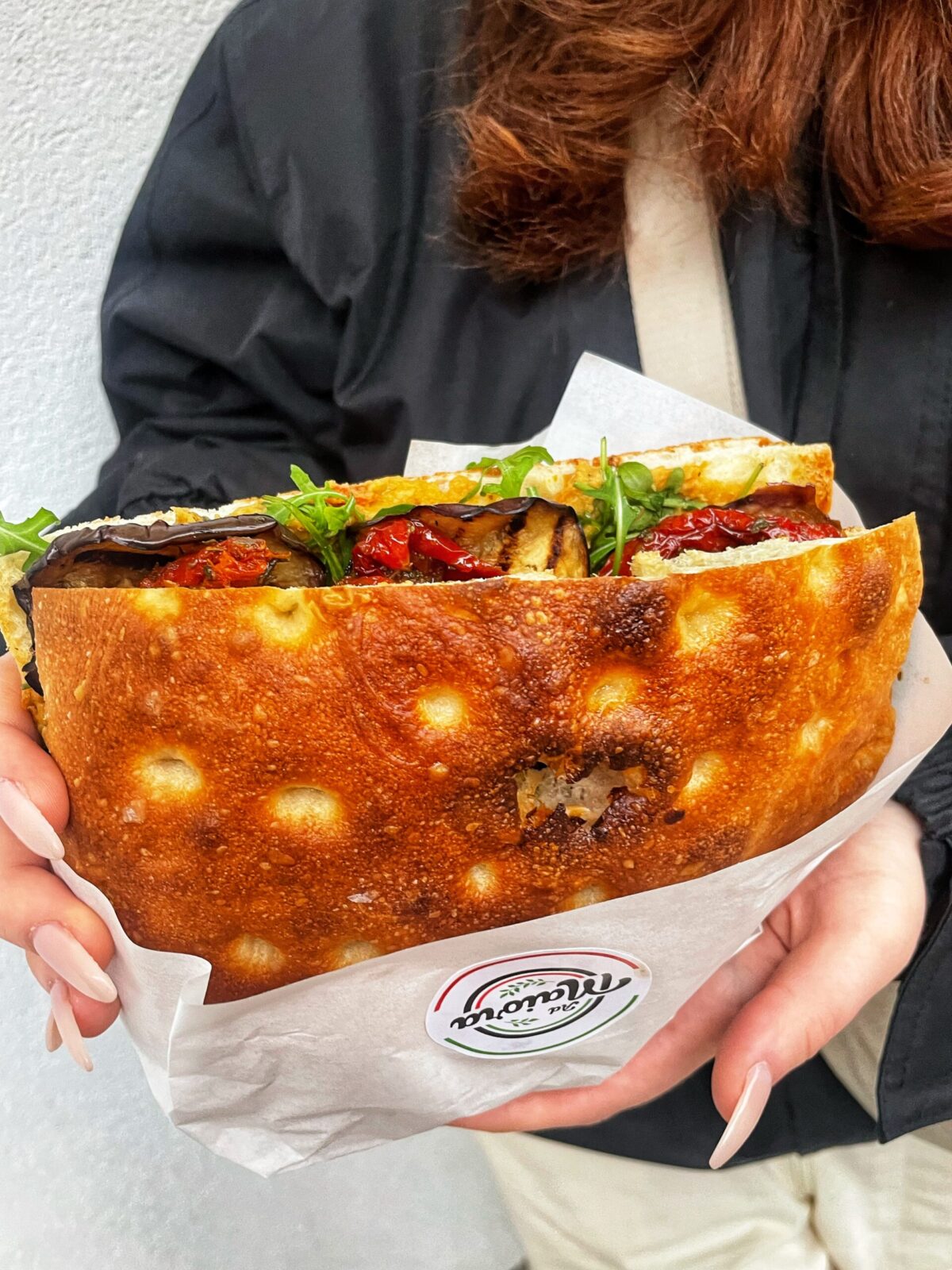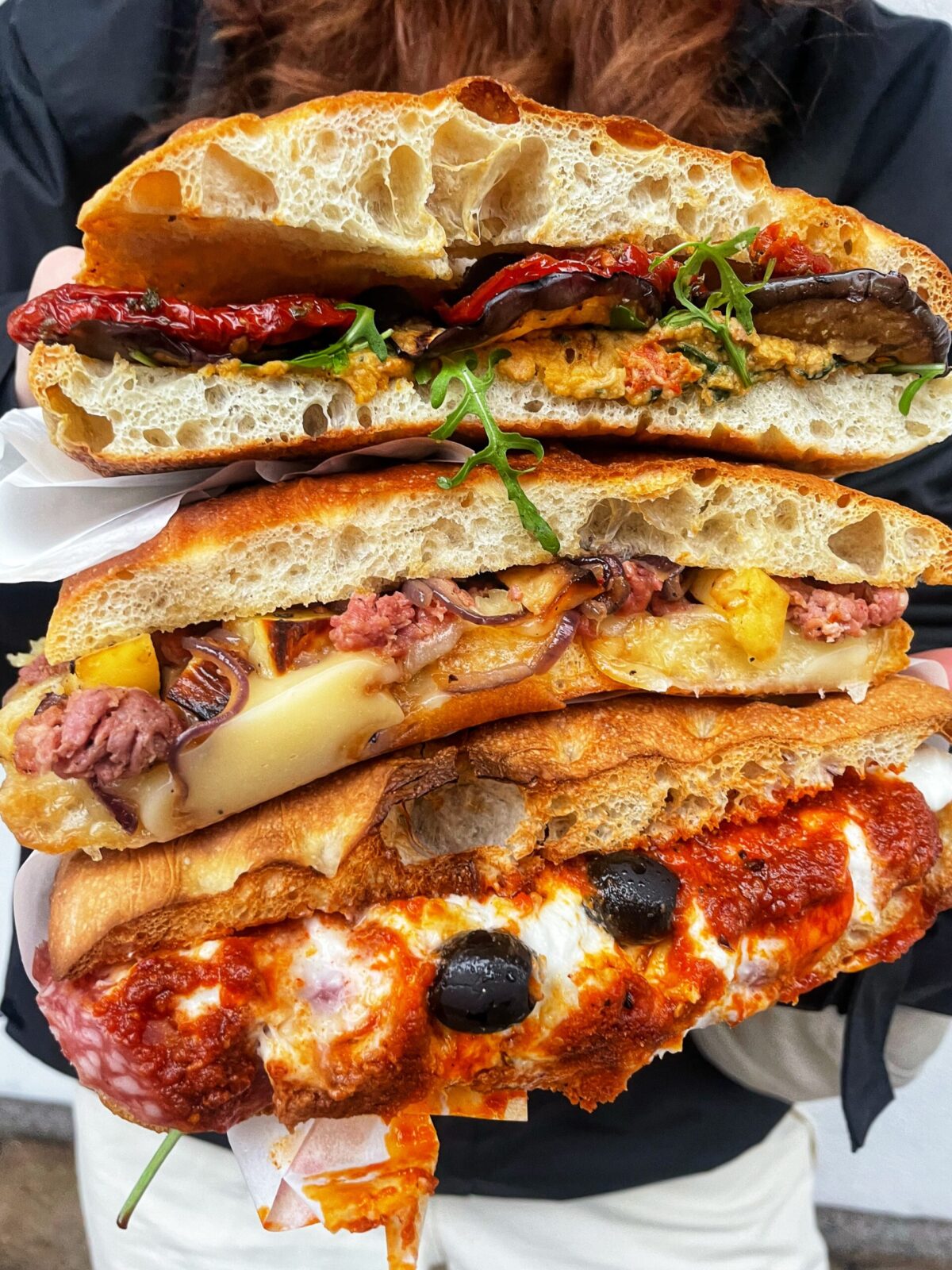 If you're a fan of things in bread (and honestly, who isn't) then Northern Quarter Italian sandwich dealer Ad Maiora is one that you absolutely need to get down your neck.
Collected from a door on a Norther Quarter back street (or available for delivery on Deliveroo), we're talking giant handmade spongy schiacciata generously stuffed with the likes of 'nduja, spicy Tuscan sausage, smoked scamorza, mortadella, burrata and red pesto.
With a total of nine different options to choose from, expect a huge array of different cheesy and meaty delights including parma ham, gorgonzola DOP, truffled brie, Milano salami and crumbled pistachios, plus a gorgeous vegan option with Italian hummus, roasted aubergine, olives, sundried tomatoes and rocket.
Read more: Meet the couple who quit their jobs to sell sandwiches from their Northern Quarter flat
The Bread Club, Monton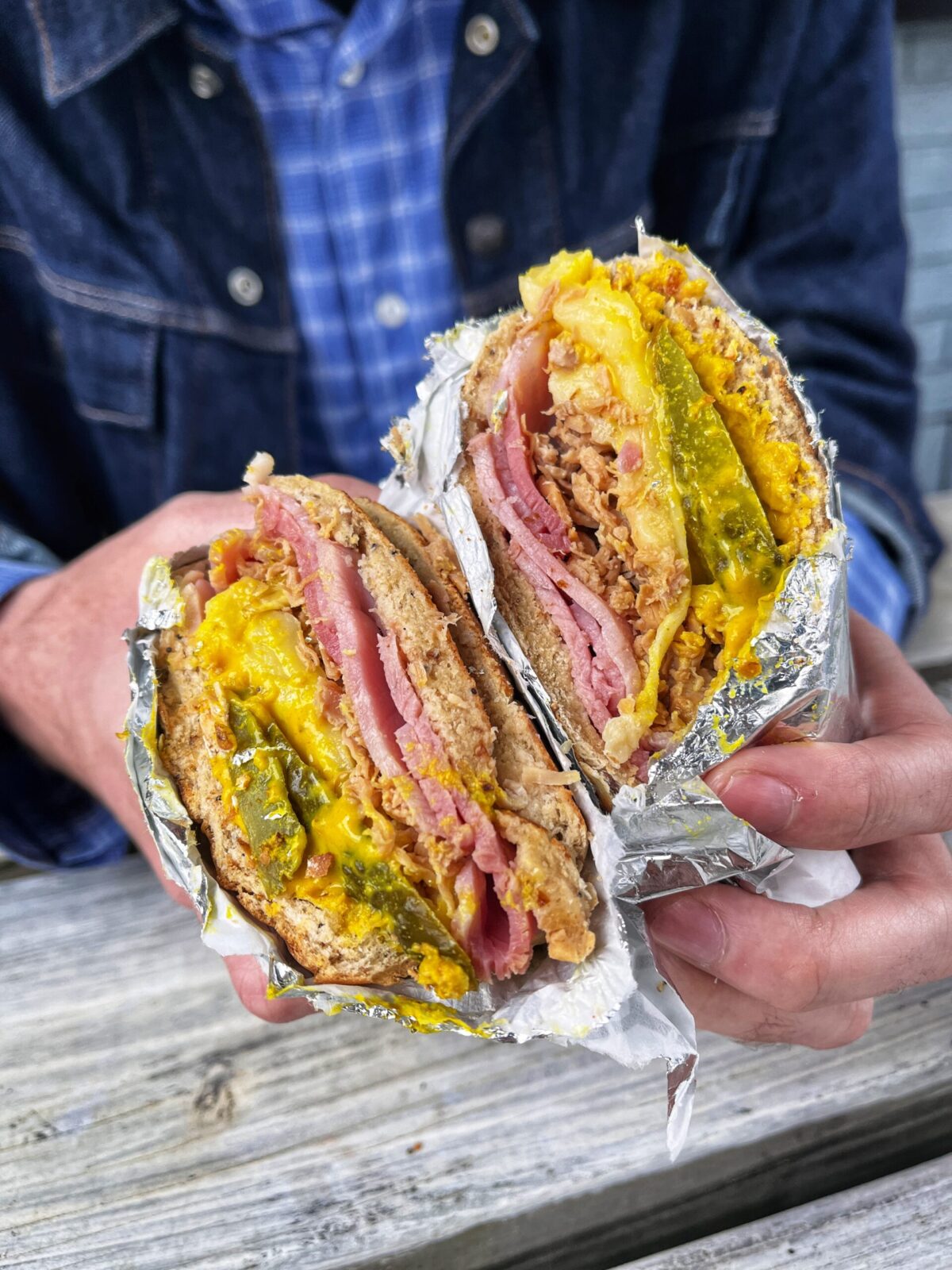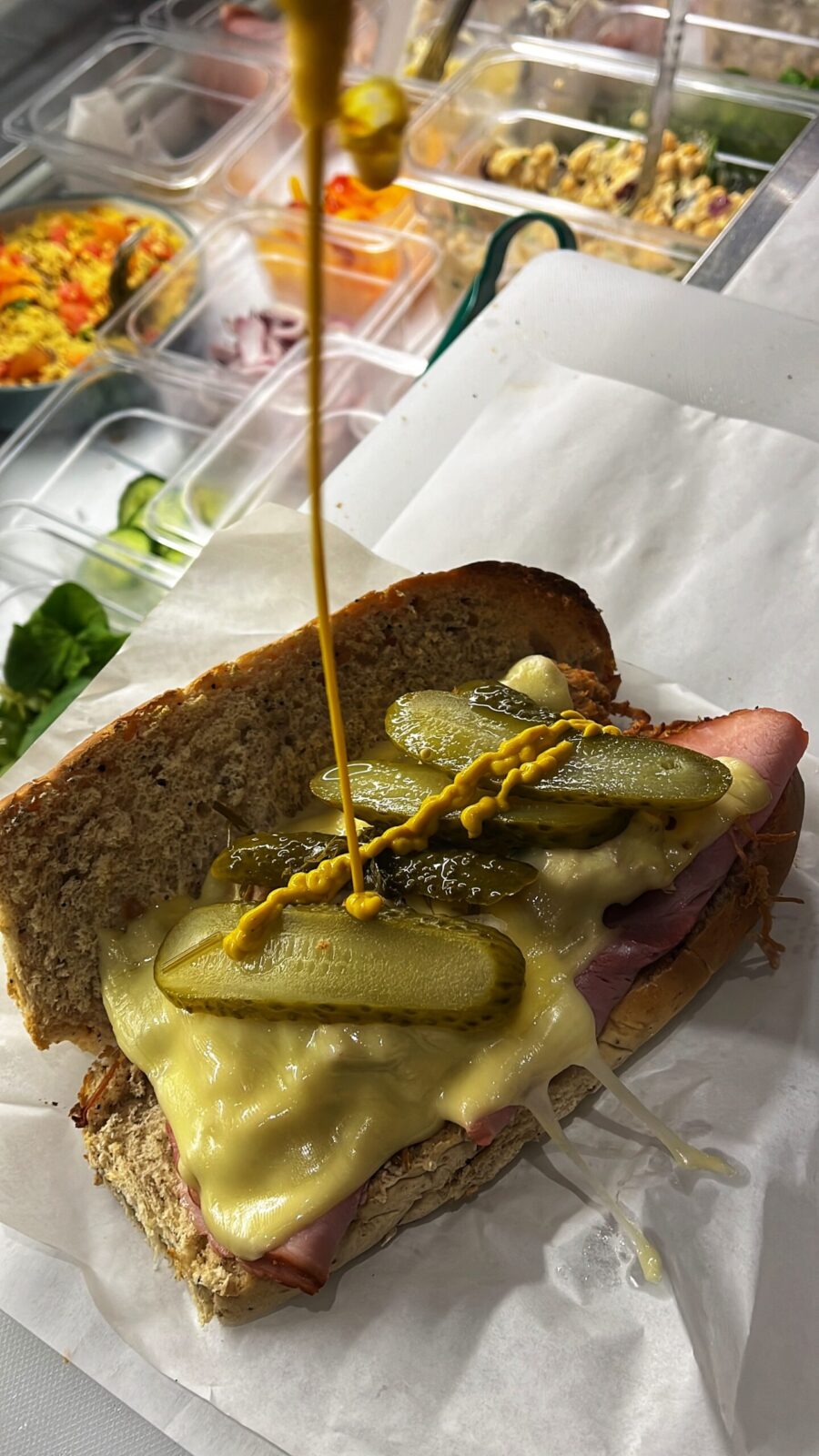 Run by in-laws Louise and Jack, The Bread Club sells some of Eccles's fattest sandwiches (as well as the chunkiest hand-cut chips we've had in a while).
Equipped with a huge glass counter brimming with sandwich fillings, as the name suggests there is a good selection of bread to choose from with hoagies, bloomers, rye and more on offer.
On the menu, you'll find eight different sarnies including the signature Taco Chicken, a hoagie stuffed with mix of chicken breast, peppers, and onions, all enveloped in a secret sauce, then topped with Swiss cheese and jalapenos.
Other highlights include the Cubano, a mixture of roasted ham, pulled pork, melted Swiss cheese, sliced pickles and house mustard, and the Rueben on rye.
Katsouris Deli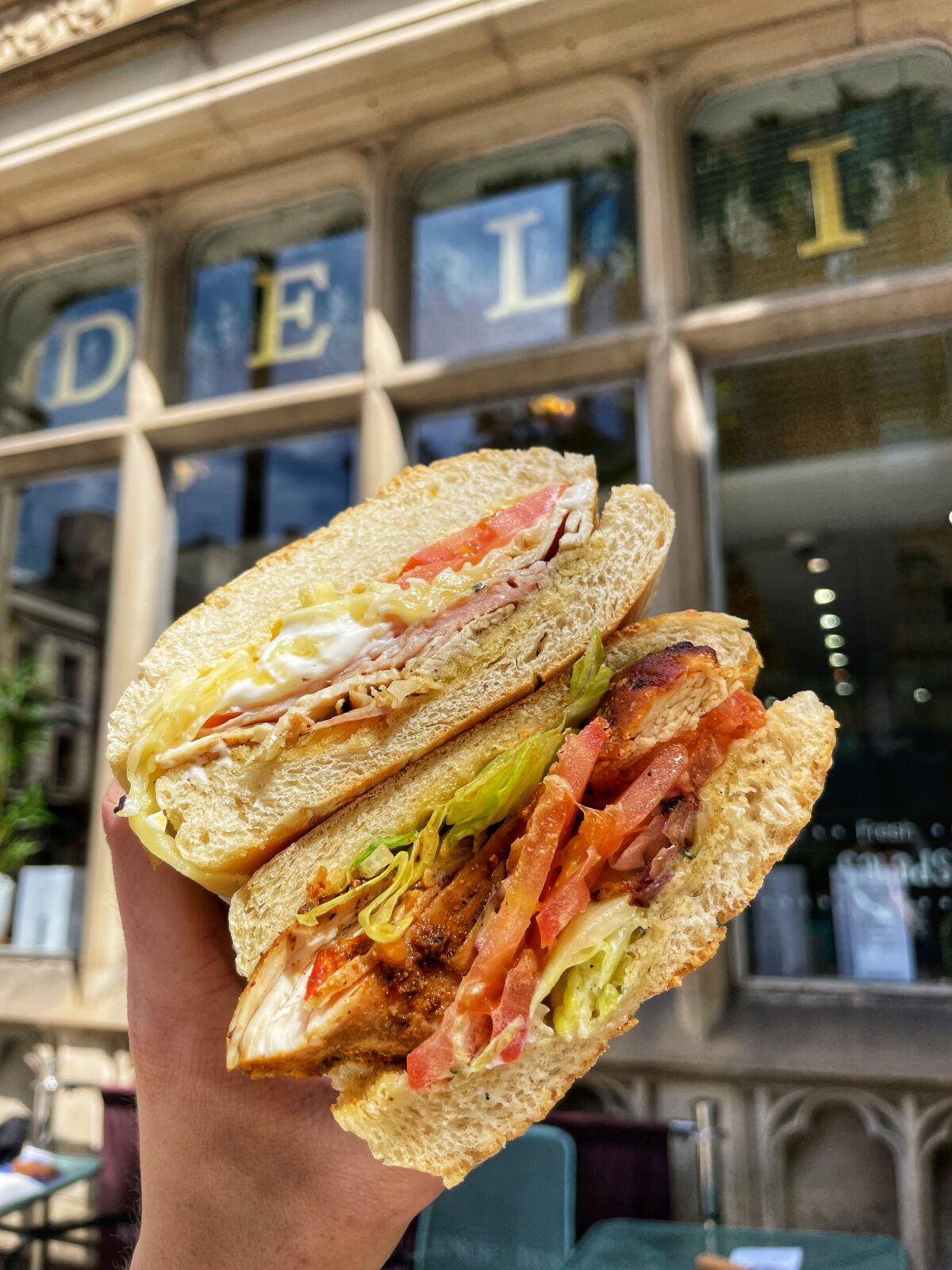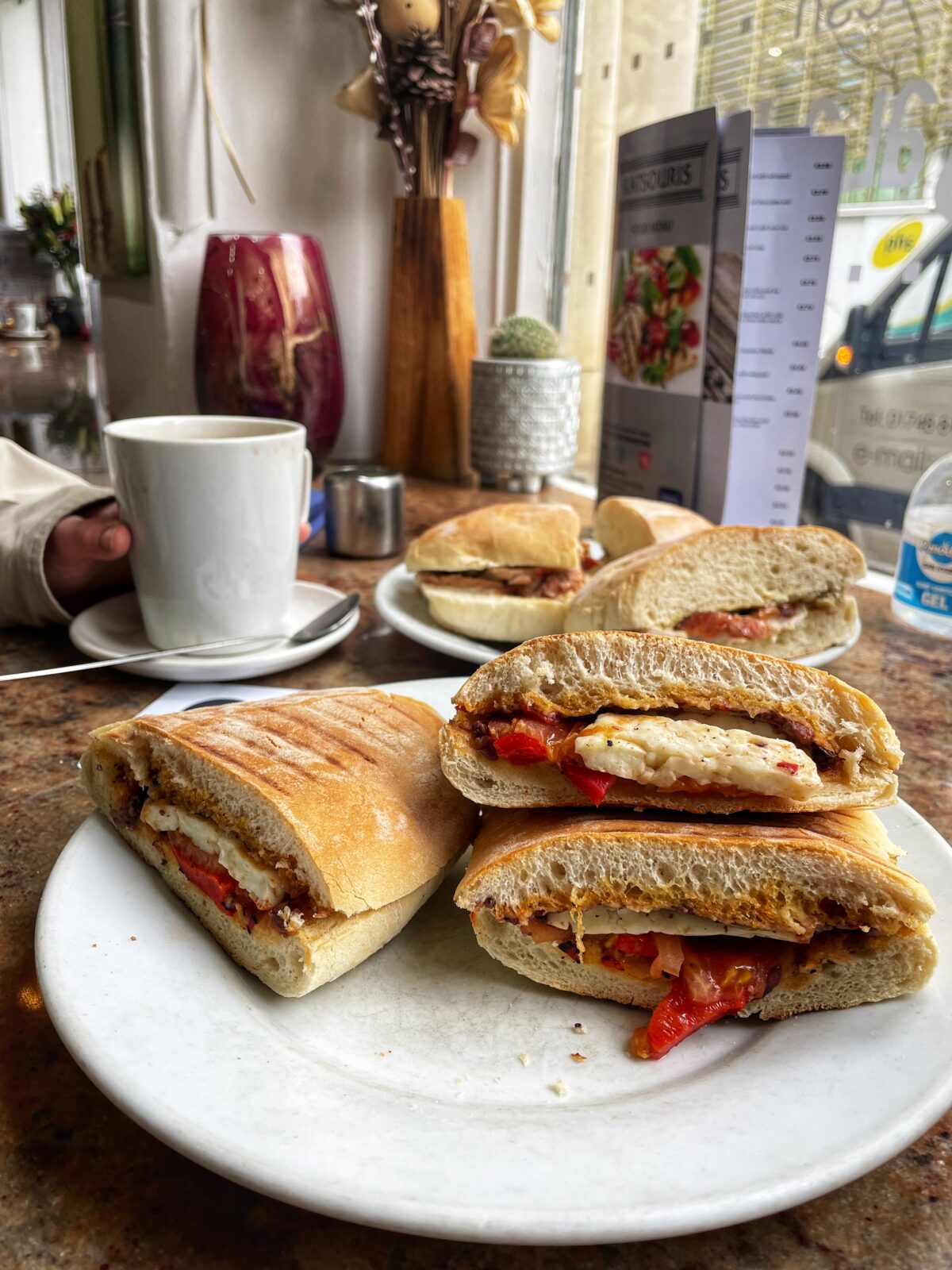 First established in the historic Bury market 50 years ago, this cross-cultural deli and cafe celebrates the mixed roots of its family with produce from Cyprus, Poland and Italy, plus more from across Europe.
Specialising in sandwiches as well as boasting an impressive salad bar and carvery, its second site on Deansgate is just as well established after 30 years in town. An iconic sandwich spot, the lunchtime queues speak for themselves.
Made with bread from Chorlton's award winning bakery Barbakan, the ciabatta is a favourite here but you do have other options. If you're in a rush, or just in need of something comforting, the hot roast pork with crackling, apple sauce and stuffing hits the spot every time.
Other highlights include the veggie-friendly Zorba The Greek, and the hangover-curing breakfast sandwiches filled with your choice of bacon, sausage and fried egg.
Fat Pat's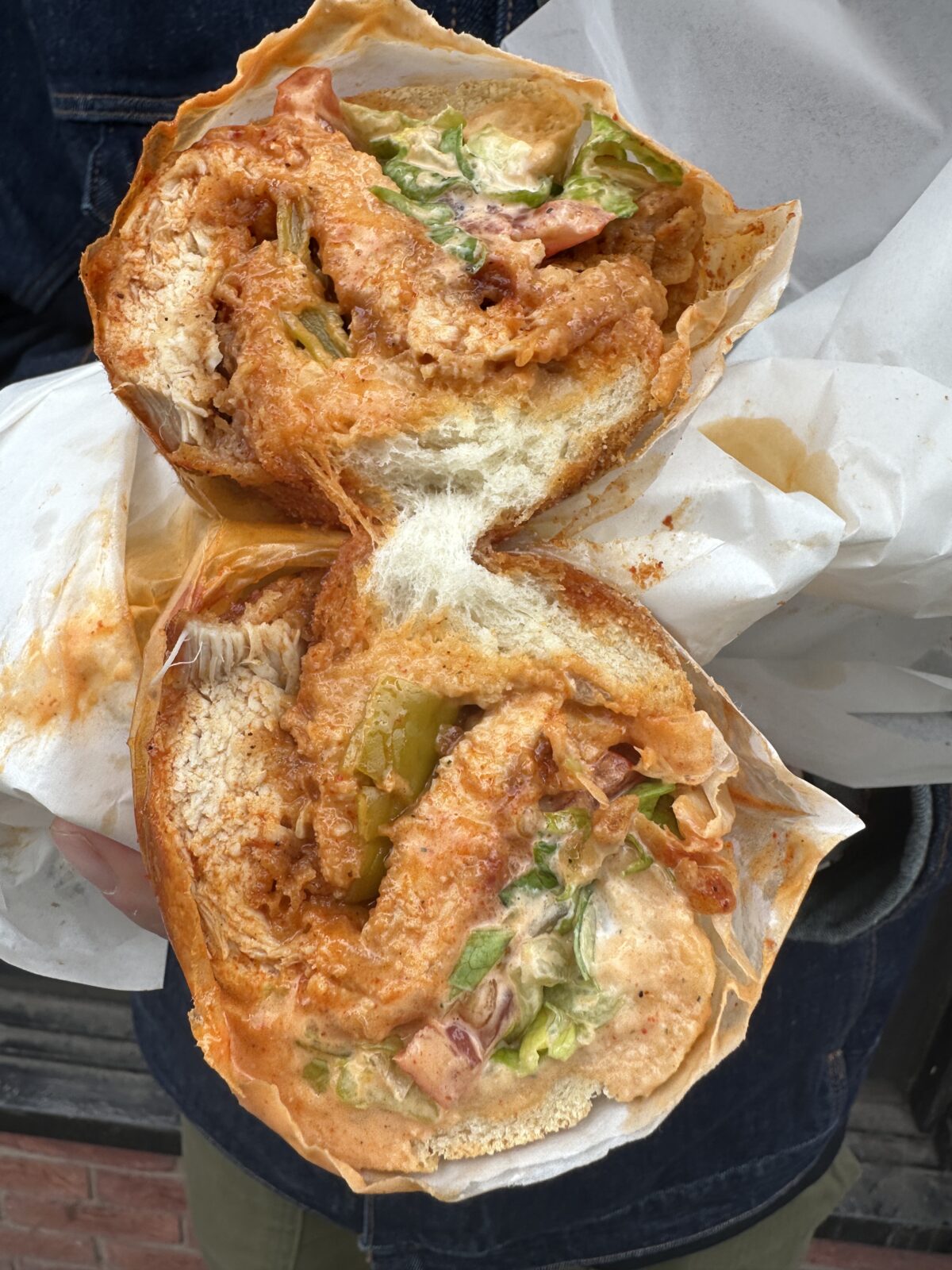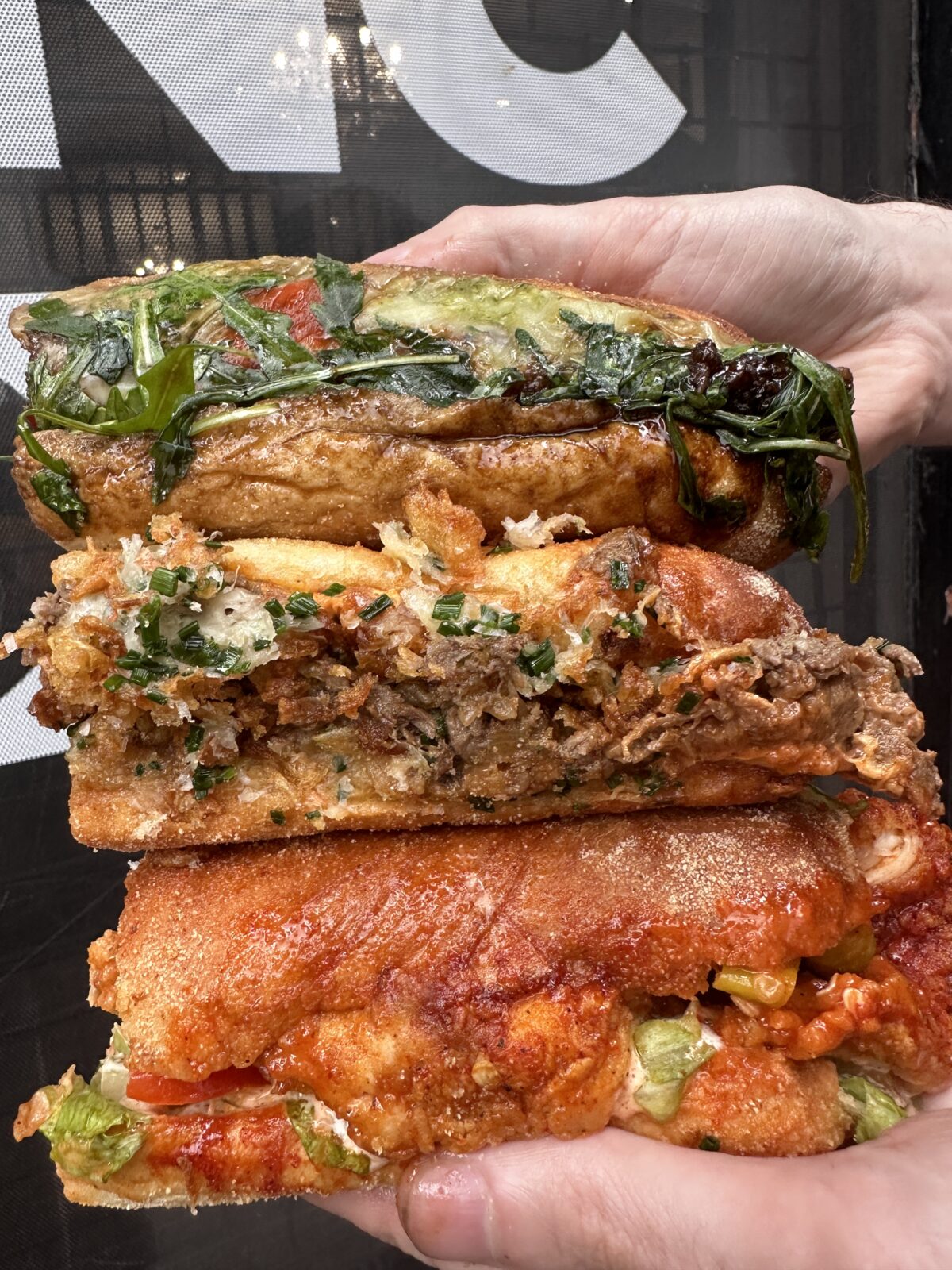 This hefty hole-in-the-wall sub sandwich spot drew fans from near and far when it opened in 2022 and it hasn't stopped since.
The allure of a hidden alley walk-up, combined with mouth-watering Philly Cheesesteaks, Hot Honey Fried Chicken and Meatball Parm baguettes has earnt it a place in our hearts and bellies forever.
Located just off Portland Street in the backstreets of Chinatown, ordering is done online in advance and they tend to sell out quick so you need to be fast if you want to secure one of these beaties.
BQ Bitesize, Northern Quarter
A gorgeous little cafe in the Manchester Craft and Design Centre, BQ Bitesize comes from the team behind local butchery The Butcher's Quarter.
The kitchen is headed up by Freddie Minns, formerly head chef at The French at The Midland, with daily-changing hot roast and breakfast butties both a huge draw.
Using local bread from Holy Grain Sourdough, think roast sandwiches like pork loin, pickled red cabbage and Devil Dog BBQ sauce, and a breakfast sandwich with sausage, egg and crispy potato rosti.
Pho Cue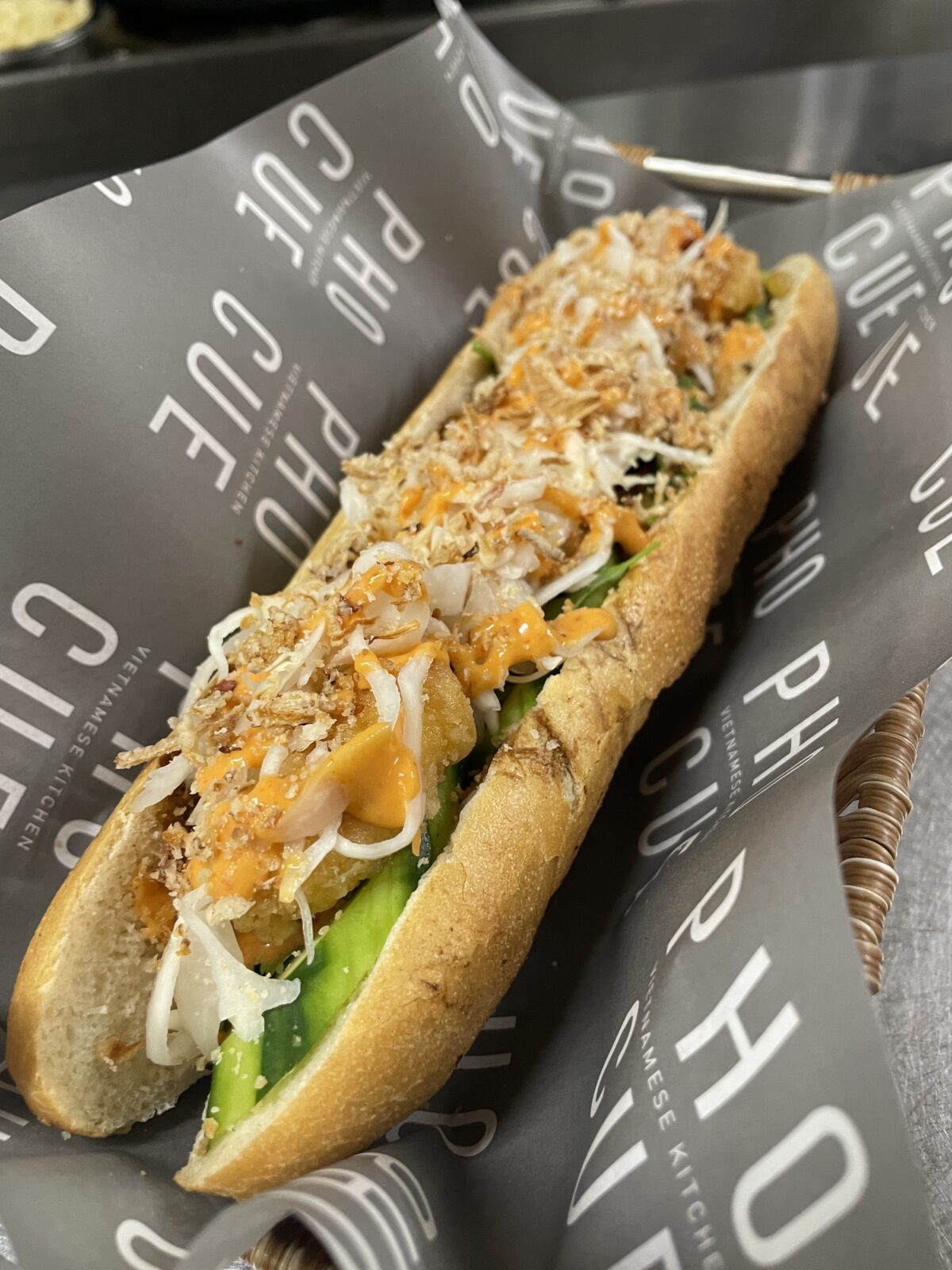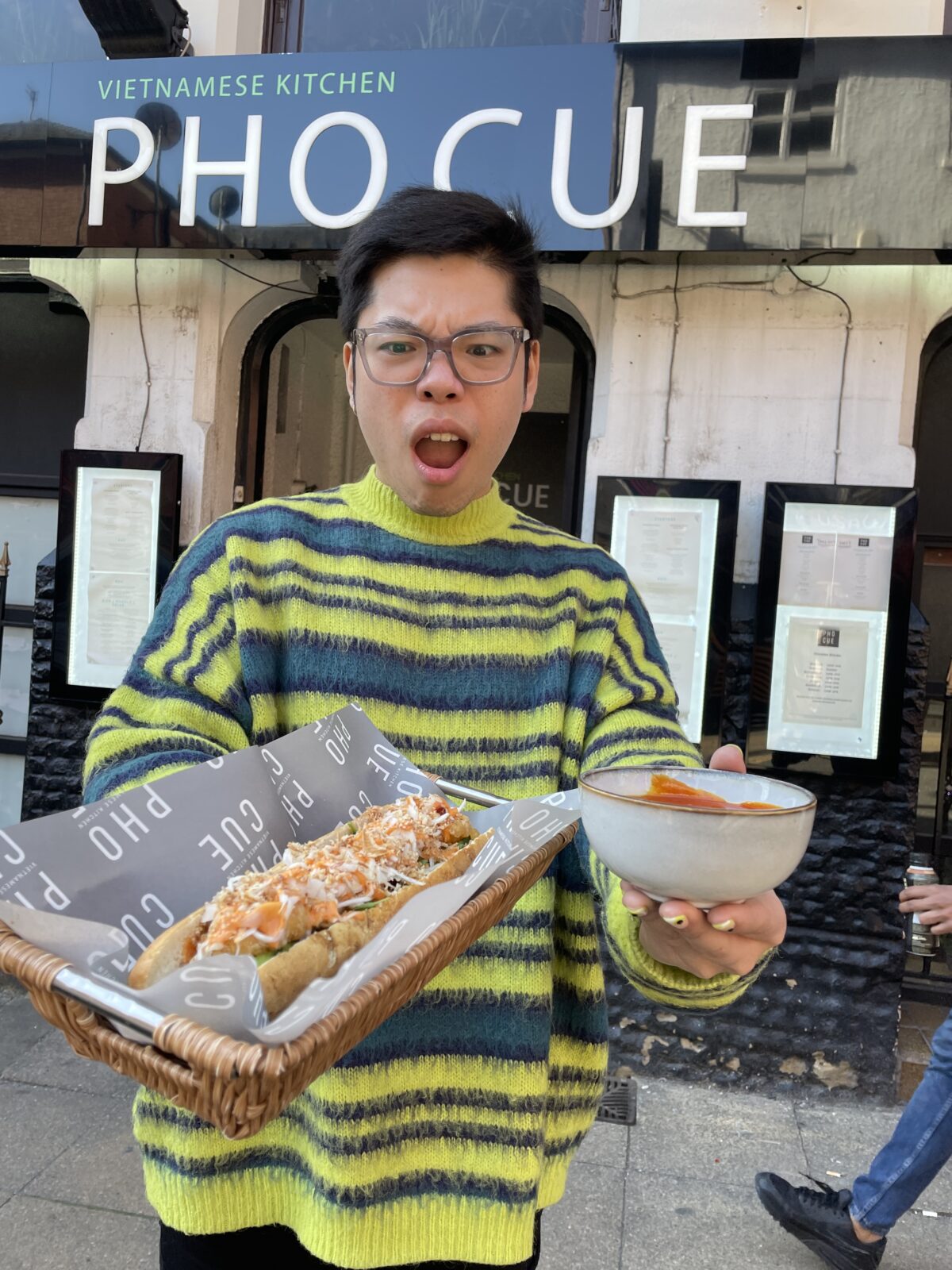 This family-run VIetnamese restaurant in Manchester's Chinatown opened in lockdown and has become popular for its bahn mi, which go on at midday and often sell out within the hour.
Only made 'for the tradition' in limited quantities for the lunch servicee, this fresh pickle and herb-topped Vietnamese sandwich can be ordered with either sweet soy, sriracha or spicy mayo.
Typically made by scooping out the inside of the baguette-style roll, here the chefs like to press the bread down instead to make more space for their fillings. Popular chioces include chicken and king prawn, with beef, pork, tofu and avocado also available.
Rack, Stockport
This tiny Stockport sandwich joint is small but mighty, with sandwich fans travelling across Greater Manchester to sample its wares.
There's not much room to sit down in the shop, but there is a very cute outdoor terrace that catches the sun perfectly at lunchtime.
Inside a big chalkboard menu lists its various options, with everythung from egg mayo and Italian meats to a funky vegan option with handmade onion bhaji, chutney and pickles.
Toasted sandwiches are a big speciality here, with highlights including a peppery Reuben and a three-cheese classic served with red onion dipping gravy on the side.
Mira, Macclesfield
Famous for its saucy Neapolitan sandwiches, Mira has a lot of fans in Manchester but is now located permanently inside Macclesfield's Picturedrome/
For its signature cuzzetiello, fillings include slow-cooked Genovese beef brisket stew, hand-rolled pork and beaf meatball ragu, and Aubergine parmigiana with cashew cheese.
There's also good-sized focaccia butties and a breakfast menu of house-baked buns with fillings like smoked ham and cheese, hash browns, Lincolnshire sausage rings, vegan bacon, rocket and tomato jam.
Read more: This family-run butty shop in Monton sells some of Salford's fattest sandwiches
Northern Soul Grilled Cheese
First established in 2015, the grilled cheese OG's have been serving Mancs their naughty, cheesy sandwiches for nearly a decade.
Widely considered one of the best places to grab a toastie in the city, its classic house staple features a blend of three different molten cheeses – all sandwiched in between golden sourdough bread – and is entirely customisable with extra free fillings.
For the adventurous, wilder options include the Bacon Frazzler with Frazzles crisps, streaky bacon, blue cheese, onion and sriracha, and the Mexican Junkie with chipotle mac n' cheese, jalapenos and Chilli Heatwave Doritos.
Go Falafel
Our go-to in the city centre for fresh falafel, technically this is a wrap but we're going to allow it. It's not just the herby chickpea goodness that does it for us here – it's all the salads, pickles and other saucy ecoutrements that go in alongside it too.
Wraps are stuffed with your choice of pickled cabbage, potato, salad, tahini, chilli sauce and lashings of fresh hummus, with grilled aubergine and optional extra. Go Falafel also makes its own fresh juices to order, which are well worth a try.
Things In Bread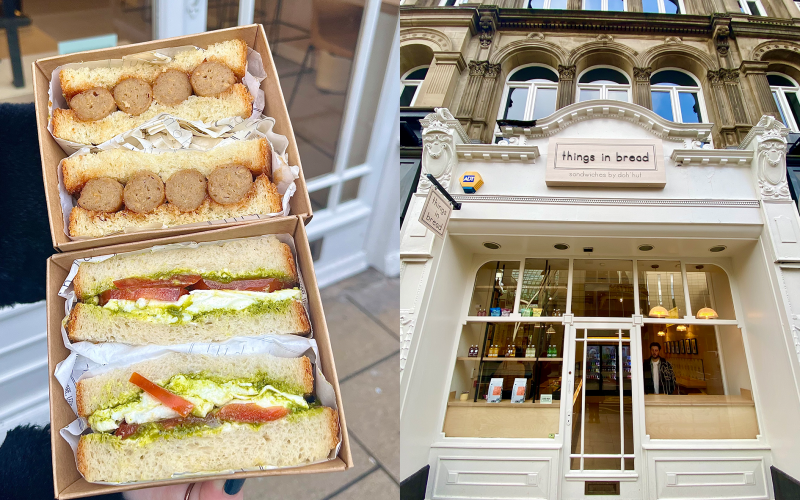 This one's not in Manchester, but if you're willing to travel for your sandwiches you should try Things In Bread.
Featured image – The Manc Eats