- Laura McGann's documentary follows a free diver and a safety diver, going from light blue to the darkest shades of navy as she tells their story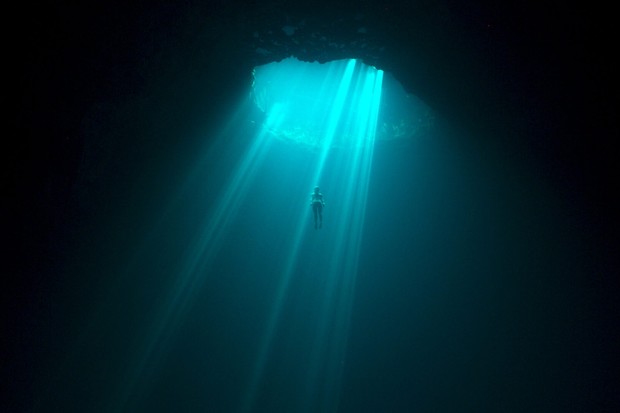 According to the 333 rule of survival, a human can go three weeks without food, three days without water and three minutes without air. The documentary The Deepest Breath, which first got an airing at Sundance and is now being shown at CPH:DOX, revolves around people who willingly and passionately hold their breath for minutes on end while diving underwater. One of the protagonists says that diving helps her sink deep into herself and understand more about herself, which is probably the closest answer one can get as to why people partake in extreme sports. Apart from ambition and the quest for glory, that is.
These themes ripple through Laura McGann's doc, which leaves enough space for us to wonder about and marvel at all this, as we meet Alessia Zecchini, an Italian multiple record breaker in free diving. She starts out in swimming pools and ends up, at least on the screen, at the Blue Hole arch, which is something akin to what K2 is for climbers – an ambitious and extremely perilous goal.
The film combines interviews with Alessia, her father, friends and fellow divers, with archive footage that provides context to the story, but it also introduces a co-lead protagonist, Stephen Keenan, a diving-school owner as well as a safety diver and love interest for Alessia. Their story is told in chronological order – we follow Alessia as she ventures deeper into her vocation and Steve as he travels around the world, soul-searching until he settles in Dahab, Egypt, where he establishes his own diving joint.
The dramatic music suggests early on that this story will have much more gravity to it than just being about people following their passions. From archive materials, we learn that one day, a Russian champion, who was also an inspiration for Alessia, simply didn't resurface. It's one of the risks inherent in doing something so extreme; another is reaching the pinnacle and having nowhere to go after that... One can only hold one's breath for so long.
Some of the elements of the story – like the strong bond between Alessia and Steve – perhaps get a little too repetitive, which makes the film feel a bit overlong, but overall, it's an engaging dive into a world that is fascinating and lethal in equal measure. This review should take you about one-and-a-half minutes to read, which is equivalent to about 30 metres of free diving.
The Deepest Breath is a UK-Irish-US film produced by A24, Motive Films and Ventureland Production. It was acquired by Netflix right after its Sundance world premiere.