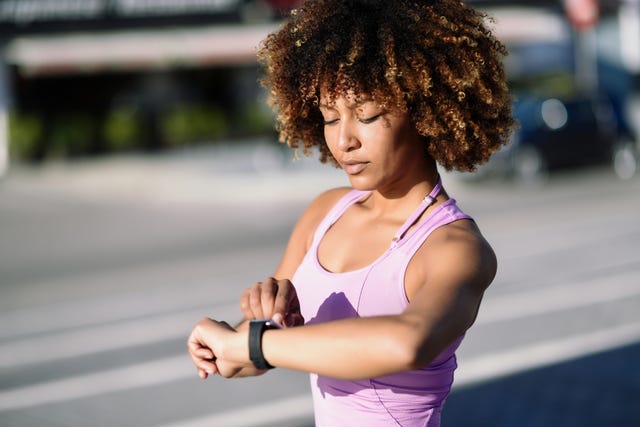 Javier Snchez Mingorance / EyeEmGetty Images
If you've zeroed in on the sub-20 5k time goal, you can count yourself an advanced runner. It takes drive to achieve such speed, as well as a capacity to endure discomfort. Sometimes, however, desire clouds reality, so take this test to ensure the target is within reach: run for seven minutes at five to 10 seconds faster than 6:26min/mile. Jog for five minutes. Repeat, but aim to run further. If you can maintain pace for both efforts, you're ready for this superfast goal. For those prepared to dig deep, we turned to the pros for their best advice.
Train with a group
When you get in a race with your teammates, and you've all done the same training, you know that you should be able to stay with them for the majority of the race,' says Galen Rupp, a 5000m finalist at the 2012 Olympics. 'If they pick it up, you know you can, too. It can be a great source of confidence.'
Practise, practise
'Do a few races to work out the kinks,' says Molly Huddle, who broke the US record for the outdoor 5000m with 14:44 in 2010. 'When I PB-ed, it was after completing three 5Ks in a row and learning something new about myself during each one.
Take the long view
Aaron Braun bagged his 13:27 5K PB in 2011.'Over the course of a season, you'll have amazing days when you feel like you can beat anybody, and days where you think your PBs are over. Don't overanalyse one day of practice,' he says. 'It's all about long-term consistency.'
Remember your ABCs
'When discouraging thoughts creep in during a race, I think, attitude, breathing, cadence – change your attitude, calm your breathing and increase your cadence,' says Julie Culley, who scored her 15:21 PB with a fifth-place finish in the 5000m at the 2011 USA Outdoor Track & Field Championships in Eugene, Oregon.
Nail these three key workouts to cross the finish in record time
1.Run two-mile tempo
What: Run at 20sec/mile slower than 5K goal pace
When: 5 weeks out; 3 weeks out
2. Run 8 x 500m
What: Run the first 3-4 reps at 5K goal pace; the final efforts at 5-10 sec/mile faster. Jog/walk for 1 min between each
When: 1 month out; 2 weeks out
3. Run 3 x 1 mile
What: Run each mile a few seconds faster than your goal pace. Jog or walk for 90 seconds between efforts
When: 2.5 weeks out
Avoid getting injured
All that running can take its toll. Use this checklist to stay healthy through to race day.
Get a massage
Use a foam roller for 10 minutes every day to ease out any knots or tight spots.
Stretch it out
After every run, stretch your quads, glutes, hamstrings and calves to eliminate tightness.
Put your feet up
Elevate legs for 10 minutes after intense runs to drain lactic acid.
Mix it up
On rest days spend 30 minutes doing low-impact cardio to flush waste products.
Rest
If your resting heart rate rises by 10 per cent or more (take it when you wake in the morning), take a day off.
This content is created and maintained by a third party, and imported onto this page to help users provide their email addresses. You may be able to find more information about this and similar content at piano.io