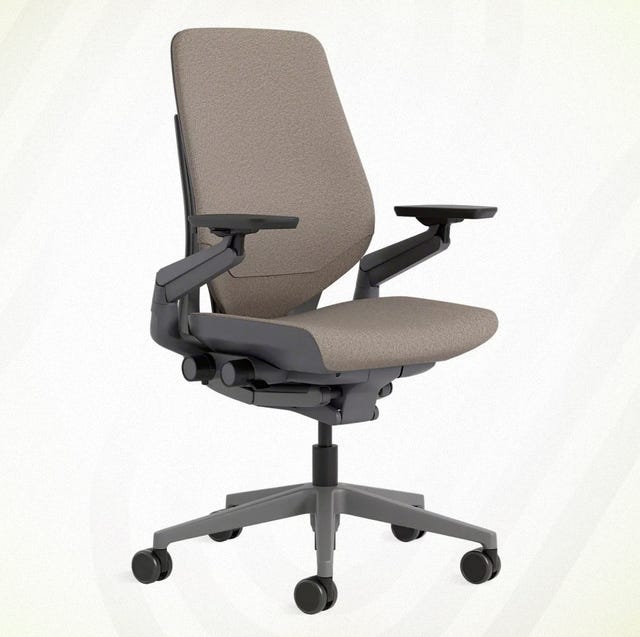 Runner's World; Courtesy Steelcase
Whether you're building out your work from home space or just sick of your rickety old chair at the office, investing in an ergonomic office chair can make your work day more enjoyable, and leave you feeling refreshed instead of exhausted. We have all heard how a sedentary lifestyle has been compared to having the effects of smoking, but it not only matters how much you are sitting, but how you are sitting. A properly supportive, ergonomic office chair can help you improve your posture and prevent back and neck pain by providing support where you need it most.
Best Ergonomic Office Chairs
What to Consider
Adjustability
Many ergonomic office chairs are highly adjustable to provide all-day comfort to those using them. Some have lumbar support, adjustable armrests, and even adjustable headrests; it's worth considering which, if any, of these features is important for keeping you comfortable throughout the day.
Sitting Position
Not all ergonomic chairs will have you seated on your bottom. Some are designed to allow you to sit in less conventional ways, like criss cross or kneeling, which may be more comfortable for some people.
Weight Limit
Most chairs will support individuals weighing up to 250 pounds, but if you weigh significantly more than that, it's worth choosing a chair that can accommodate higher weights. Even if you're not over the upper weight limit for the chair of your choosing, picking a chair with a higher weight limit may help extend the piece's longevity.
How We Selected
To find the best options among the many ergonomic office chairs out there, we researched some of the most popular models available through Amazon and other retailers. We then took into account price, design, comfort, durability, and adjustability. Finally, we consulted reviews written by people who've bought these models on sites like Amazon to settle on the ergonomic office chairs you'll find below.
Looking to get some more movement into your workday? Check out our top picks for under-desk treadmills.
Advertisement - Continue Reading Below
1
Best Overall
Flexfit Hyken Mesh Task Chair
Key Specs
Dimensions (H x W x D): 45.3-49.8 x 27.2 x 27.3 inches
Seat Material: Mesh
Weight Limit: 275 pounds
This chair performs well above its price point and is adjustable everywhere you need it to be. It has a headrest and lumbar support, which help promote proper posture. The armrests are also adjustable, which can help keep your wrists at a comfortable height while working. The back and headrest are also made from mesh, which keeps it breathable.
2
Best Luxury
Gesture Executive Chair
Key Specs
Dimensions (H x W x D): 39.25 to 44.25 x 16.25 (back)/20 (seat) x 23.63 inches
Seat Material: Fabric
Weight Limit: 300 pounds
This chair will not only keep you comfortable all day, but it also has a sleek look that fits in well with any modern office. It has a comfortable, cushioned feel that's a great alternative to mesh chairs. It is made from high-quality fabric, and while it's not as adjustable as some other options, the design is comfortable and supportive. You can also mix and match your upholstery and base color, and choose between casters made for either hard floors or carpets.
3
Best Mid-Range
Ignition 2.0 Mesh Back Task Chair
Key Specs
Dimensions (H x W x D): 44.5 x 27 x 28.5 inches
Seat Material: Mesh
Weight Limit: 300 pounds
Although $380 my feel like a lot of money, it is actually a pretty reasonable price for what you're getting with this chair—especially considering that models with similar functionality and design often cost upwards of $1,000. This one has a wide mesh back that's super breathable, and has four-way stretch that gives it a soft, supportive feel without thick cushioning. It has an adjustable seat depth and height, tilt tension, tilt lock, and even boasts height-adjustable arms, making it easy to customize your comfort.
4
Best Budget
Mesh Swivel Office Chair
Key Specs
Weight Limit: 275 pounds
Dimensions (H x W x D): 35.6-40.3 x 24 x 25.2 inches
Seat Material: Plastic mesh
If you're looking for an affordable ergonomic office chair, you won't do much better than this Amazon Basics model, currently priced just under $62. While it isn't as adjustable as some of the more expensive models on our list, it does offer adjustable height and adjustable armrests. It has a padded seat and a breathable curved mesh back, which hugs your back for a supportive feel.
5
Best Non-Traditional Chair
Meditation Chair
Key Specs
Dimensions (H x W x D): 30.7-34.7 x 27.6 x 30.7 inches
Seat Material: Polyurethane faux leather
Weight Limit: Under 200 pounds
If you have a hard time sitting upright all day, chances are that no standard office chair is going to keep you comfortable over eight-plus hours. Luckily, this chair allows you to sit criss cross while remaining at desk level. It has a curved back that supports your mid-back, and a leg rest piece which can be swung completely around if you prefer to sit normally in the chair. It is also highly cushioned and comes in four color options.
6
Best Value
High-Back Black Mesh Swivel Chair
Key Specs
Dimensions (H x W x D): 47.5-52.5 x 25.5 x 24 inches
Seat Material: Mesh
Weight Limit: 250 pounds
Another relatively affordable option, this one has a super breathable mesh back and can be ordered with or without a headrest. Although the back isn't padded, it does have built-in lumbar support. The seat is also super cushioned and shaped to hug your hips. It also comes in 13 different colors, ranging from neutrals to vibrant hues like deep red and bright yellow.
7
Best For Improving Posture
Ergonomic Kneeling Chair
Key Specs
Dimensions (H x W x D): 21-31 x 18.7 x 26.2
Seat Material: Metal, faux leather
Weight Limit: 250 pounds
Another unconventional design, this chair is designed to help keep your posture straight without actively supporting your back. It allows you to sit in a semi-kneeling position, which naturally works to strengthen your back and core over time. The knee pad and seat are highly cushioned, which helps prevent any discomfort from sitting for a long time, and the strong metal base can hold up to 250 pounds.
This content is created and maintained by a third party, and imported onto this page to help users provide their email addresses. You may be able to find more information about this and similar content at piano.io
Advertisement - Continue Reading Below