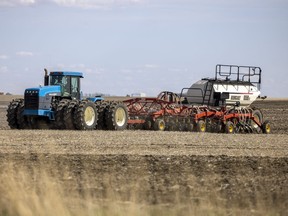 Article content
Most of Saskatchewan's farmers are close to finishing seeding, thanks to help from recent scattered showers around the province.
Article content
According to the latest crop report, producers are 89 per cent seeded, which is just behind the five-year average of 92 per cent.
Article content
"Many producers are breathing a sigh of relief as they wrap up seeding after very timely rains, and overall are still busy with end-of-seeding activities, working and moving cattle out to pasture, and scouting their fields for seedling issues," the province said Thursday in its most recent crop report.
The northwest has 97 per cent of this year's crop in the ground, the west central is 94 per cent seeded, and the southwest is 90 per cent seeded. Excess moisture in the eastern regions slowed progress, with the least amount of seeding complete in one area at 80 per cent.
Provincially, seeding is almost complete for pea (95 per cent), lentil (94 per cent), chickpea (94 per cent) and mustard (94 per cent) crops. Oat (78 per cent) and flax (80 per cent) are the crops with the least amount of seed in the ground for the province.
Article content
Producers around Saskatchewan received rain this week, varying between 69 millimetres (Arborfield region) and 67 mm (Borden region) to two mm (Eyebrow region), with the entire province receiving at least trace amounts of rain at some point. Cumulative precipitation has varied from area to area, with the Earl Grey region having recorded 205 mm of rain so far this year.
The recent rain restored topsoil moisture levels across the province and even brought some areas of the province into excess levels. Provincially, five per cent of cropland has surplus soil moisture, 76 per cent is adequate, 17 per cent is short and two per cent is very short. According to the report, 16 per cent of the northeast of the province has a surplus of soil moisture, while six per cent of the southwest is very short.
Article content
Pasture and hay land topsoil moisture levels also increased this past week — three per cent of pasture and hay land have excess topsoil moisture, 69 per cent have adequate, 24 per cent are short, and four per cent are very short. Similar to cropland, 14 per cent of the northeast has a surplus of topsoil moisture and 10 per cent of the northwest is very short.
Crops around the province are in excellent to good condition, according to the report. Spring wheat is currently rated as being in the best condition, with 27 per cent of the province's crop being excellent and 60 per cent being good. This is followed by barley (23 per cent excellent, 65 per cent good) and pea (23 per cent excellent, 64 per cent good). Mustard and chickpea are currently at seven per cent of the crop being excellent provincially.
Generally, there is little crop damage in the province, although there have been reports of flea beetles and grasshoppers found in emerging crops. There has also been some minor flooding this week, light frosts and some dry conditions contributing to crop damage.