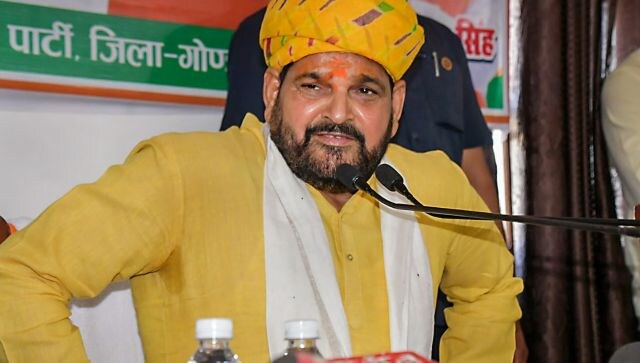 One of the sexual harassment allegations against Wrestling Federation of India president and BJP MP Brij Bhushan Sharan Singh is that he touched the "stomach and chest 3-4 times" of a female wrestler to check her breathing patterns.
The WFI chief, however, while deposing in front of the government of India's appointed Oversight Committee in February this year mentioned yoga as a reason for checking breathing patterns, said a report in Indian Express. Singh also cited Hindu scriptures to justify his decision of having separate training camps for male and female wrestlers.
One of the female wrestlers while speaking in front of the committee had said that Brij Bhushan touched her "stomach and chest 3-4 times and continued to comment on her breathing pattern".
The WFI head while denying the allegations said that he had touched his own stomach to show the correct way of breathing.
Singh recalled that during a tournament the complainant was taking wrong decisions during a bout.
"So we said her breathing pattern is reverse. Madam, I have been a victim of this. For around 20 years, I couldn't sleep properly. An incident had taken place, my son died by suicide, and I found refuge in yoga. I was told that since my breathing pattern is reverse, I am unable to sleep," Brij Bhushan told the committee.
After the wrestler and a coach asked him what exactly is reverse breathing pattern.
"So I placed my hand on my stomach and showed them that when we breathe in, the stomach should expand, and contract when we breathe out. Everyone checked their breathing at that moment. When the complainant [name withheld] came, I told her, 'beta, you should join yoga as well.'"
The WFI chief also asked the physiotherapist if she massaged the wrestler's hands.
"She said no. So, I asked the complainant if she checks her breathing while sleeping. However, she laughed. So I came out and said it's tough for her to win a medal because she isn't serious," Singh told the panel.
SAI camp in Lucknow
During the hearing, Paramjeet Malik, a former physiotherapist who was at the camp in Lucknow in 2014, told the committee that 'junior wrestlers' were taken out of the camp at night.
Malik added that she was removed from the camp after she informed the chief coach about it.
Brij Bhushan said that it was not his decision to hold the women's national camp at the Sports Authority of India's campus in Lucknow.
"I did not tell the authorities to hold the camp in Lucknow. I told them that have it on a separate campus or else it will impact their training. Even the parents of the wrestlers told me to split the two camps," Singh said.
On being asked about it further, Singh said: "This doesn't happen outside. Jawan bhai behan ek sath kyun nahi sote? Ye mahila university, Mahila college kyun hai? … Hamare shastro mein kaha gaya hai bhai behan ek sath ekant me na rahe. Ab hum logon ne keh rakha hai toh ispe bahut badi debate ho jayegi (Why don't brothers and sisters sleep together? Why do we have women's universities, women's colleges? Our scriptures say that brothers and sisters should not stay alone together. Now that we have said this, it has triggered a debate.)."
The media report also raises questions on the role of the Oversight Committee which was established in January this year after India's top wrestlers began their first agitation against the WFI head.
The six-member committee consisted of Mary Kom, Yogeshwar Dutt, Trupti Murgunde, Radhica Sreeman, Rajesh Rajgopalan, and Babita Phogat.
The complainants made the same allegations in front of the committee which has now led to a chargesheet in which the Delhi Police has said that Brij Bhushan is "liable to be prosecuted and punished for offences" of sexual harassment, molestation and stalking.
The chargesheet was filed after an investigation of complaints by six female wrestlers. It has found a case of "repeated and continuing" harassment from the WFI chief, invoking Sections 506 (criminal intimidation), 354 (outraging modesty of a woman); 354 A (sexual harassment); and 354 D (stalking).
In two cases, Singh has been booked under Sections 354, 354A and 354D, while four of six cases are under Sections 354 and 354A — which carry a jail term of up to five years.