MOST RECENT UPDATES
Effective Friday, Feb. 26, at 5 p.m., certain restrictions on businesses and gatherings are being eased in North Carolina under Executive Order No. 195.
Please see below for details, and click here for an overview of all current restrictions. Executive Order 195:

Still requires face coverings in all public indoor settings
Allows many businesses to operate at 50% capacity
Extends onsite service of alcohol until 11 p.m.
Lifts the 100-person cap on some businesses that were operating at 30% capacity
Allows some indoor businesses – including bars and taverns, indoor amusement parks, movie theaters, and indoor sports arenas – to open at 30% capacity (with a cap of 250 people)
Allows larger indoor arenas with a capacity of more than 5,000 people to open at 15% capacity with no cap (as long as additional safety protocols in place)
Increases the indoor mass gathering limit to 25 people (the outdoor mass gathering limit remains at 50 people)

These restrictions remain in effect until March 26 at 5 p.m.

Check the operational status of food and drink establishments HERE.
View reopening status and guidelines for Forsyth County attractions HERE.
VACCINE NEWS:
---
WS/FCS Back to School Plan
The Winston-Salem/Forsyth County School (WS/FCS) Board of Education has adopted a phased school reopening plan (Plan B) for all students.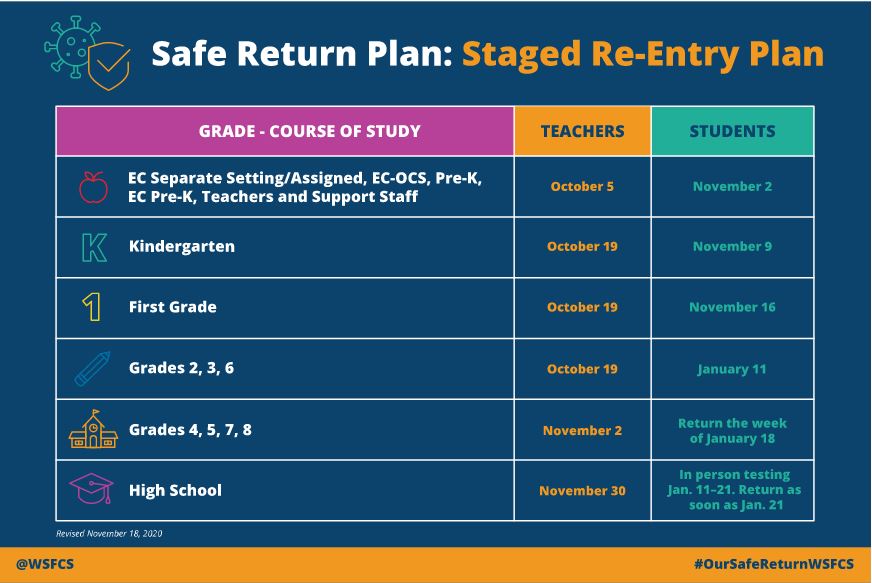 Please visit the "Our Safe Return" page here for more information.

---
COUNT ON ME NC
We've completed COVID-19 training and are a participating #CountOnMeNC location. As you see this logo around Winston-Salem, please know that our partners have taken their already stringent disinfection safety measures the extra mile that you can count on!
Visit countonmenc.org to learn more about enhanced safety measures we've implemented and to take the pledge yourself.
Find locally registered Count on Me NC businesses HERE.
---
RESOURCES
Visit Winston-Salem continues to closely monitor statements from the Centers for Disease Control and Prevention, World Health Organization, and North Carolina Department of Health and Human Services (NCDHHS) regarding the novel coronavirus (COVID-19) and is committed to following guidelines from these agencies and our local health departments.
The safety and wellbeing of our staff, visitors, and industry partners are of the utmost importance to us. We remain vigilant to ensure our guests have a safe and pleasant stay.
Our state officials recommend that everyone monitor the NC Department of Health and Human Services' special webpage on the situation. Residents and visitors can also find information from the Centers for Disease Control and Prevention. View the COVID-19 County Alert System report here.
Visitors and travelers in and through the state should check with their lodging provider and event organizer before departing on a trip to North Carolina. Visitors to the state should take the same precautions that are recommended for traveling during the flu season. Those precautions are even more valuable this year. Visitors who are at "high risk" of severe illness from COVID-19 should avoid large groups of people as much as possible.
The North Carolina Restaurant & Lodging Association (NCLRA) has created a special COVID-19 webpage full of industry links to state and federal agencies to inform and assist the thousands of restaurant and lodging employers and employees impacted by COVID-19 in North Carolina. Visit their website here.
---
FREQUENTLY ASKED QUESTIONS
What is Visit Winston-Salem doing in response to the Coronavirus (COVID-19) threat?  Visit Winston-Salem is reinforcing recommended measures on appropriate hygiene standards and following the guidance of the Centers for Disease Control and Prevention, the World Health Organization, and local health authorities.
What is the risk of contracting Coronavirus (COVID-19) for visitors to Winston-Salem?  Specific information on Coronavirus (COVID-19) is available on the WHO and CDC websites, including risk assessment and travel advice. We and our travel industry partners take our standards for hygiene and cleanliness seriously. We are encouraging everyone to follow the guidelines of the global and local health authorities and to take relevant health and safety measures.
What should be done if a visitor expresses concern that they may have contracted Coronavirus? You should consult with a medical professional and/or seek medical assistance promptly.  For the latest information, North Carolinians should visit www.ncdhhs.gov/coronavirus and the Coronavirus Disease 2019 section of the Centers for Disease Control and Prevention (CDC) website. Information for health care professionals and local health can be found here.
If you have specific questions or concerns related to coronavirus, call 866-462-3821 for more information. In the event of an emergency, please call 9-1-1. You can also submit questions online by selecting Chat at www.ncpoisoncontrol.org.
---
STAY HEALTHY; STAY STRONG
The U.S. Travel Association, Visit North Carolina, N.C. Restaurant & Lodging Association, etc. has issued a statement offering "Make Fact-Based Decisions About Traveling."
The Centers for Disease Control considers people to be "high risk" if they are:
Adults over the age of 65
People who have serious chronic medical conditions like:

Heart disease
Diabetes
Lung disease
As a reminder, here are some precautions for travelers from the CDC and NCDHHS:
Do not travel if you are sick.
Those at high risk should avoid large groups of people as much as possible. People at high risk should also avoid non-essential air travel.
Wash your hands often with soap and water for at least 20 seconds, especially after blowing your nose, coughing, or sneezing; going to the bathroom; and before eating or preparing food.
If soap and water are not readily available, use an alcohol-based hand sanitizer with at least 60% alcohol. Always wash hands with soap and water if hands are visibly dirty.
Avoid touching your eyes, nose and mouth.
Avoid close contact with people who are ill.
Cover your mouth and nose with a tissue when you cough or sneeze and throw it away. If you don't have a tissue, cough or sneeze into your upper sleeve, not your hands.
Wear a facemask to help stop the spread.
Local Medical Center Information:
---

#WINSTONSTRONG
We are Looking Forward to when it's safe (and healthy) to Travel Back to Winston-Salem. Stay #WinstonStrong, and pass it along!
Consider changing your Facebook profile frame to a branded #WinstonStrong graphic by clicking HERE.
Want to liven up your Zoom meetings? Download a free Winston-Salem themed Zoom Background — compliments of Visit Winston-Salem! Click here.