A new law will provide federal funding to support the mental health of medical workers as the impact of COVID-19 still strains many medical facilities across the country.
President Joe Biden signed the Dr. Lorna Breen Health Care Provider Protection Act, named after a New York-Presbyterian Hospital, Columbia University Medical Center emergency medicine physician who died by suicide in 2020 during the peak of the pandemic. The new law—which is the first to provide such funding—is aimed toward supporting mental health education and awareness campaigns for health care workers.
"Health care professionals often forgo mental health treatment due to the significant stigma in both our society and the medical community, as well as due to the fear of professional repercussions," said Angela Mills, MD, chair of emergency medicine at Columbia University Vagelos College of Physicians and Surgeons. "This law will provide much needed funding to help break down the stigma of mental health care, providing education and training to prevent suicide, address other behavioral health issues, and improve well-being."
Breen was recovering from COVID-19 and struggling both mentally and physically at the time, but chose to work 12-hour shifts. Her family says she would stay well past the end of her shifts and became so overworked. She feared losing her medical license and receiving criticism from colleagues if she let it be known that she was "suffering" from the workload, her family said.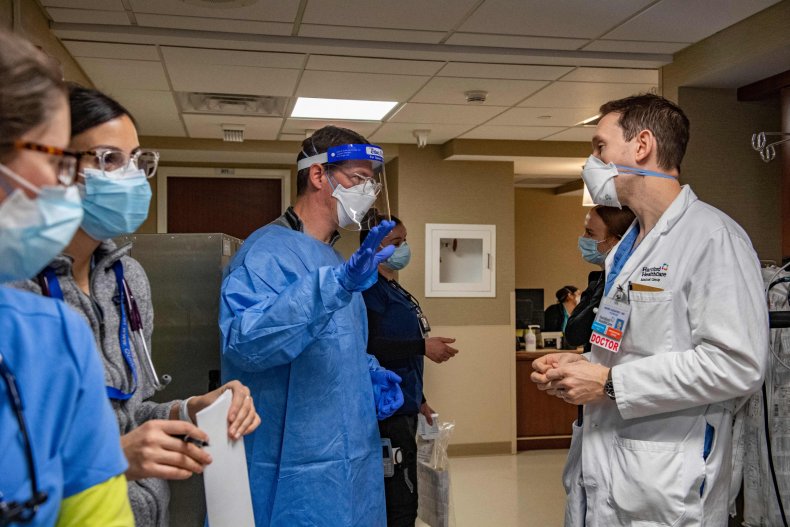 "She was afraid to get help, because she was worried it would end the career that she had spent her entire life working for," her loved one wrote in a statement on the Dr. Lorna Breen Heroes' Foundation website.
The foundation said it hopes the new law will prevent other health care worker suicides by providing medical staff with much-needed support. The law will provide up to $135 million over three years to improve medical workers' mental health.
About two-thirds of U.S. physicians, 64 percent, said that burnout had intensified during the pandemic, according to the results of a Medscape survey. Women physicians reported a higher burnout rate of 70 percent, compared to 61 percent of men.
Nearly 30 percent of all physicians experienced high stress levels related to COVID-19 and 29 percent had substantial levels of work overload, but 46 percent of doctors said they had an enhanced sense of meaning and purpose during the pandemic, according to the survey.
Newsweek reached out to the Dr. Lorna Breen Heroes' Foundation for comment.