The Zucci hair salon name has a 35-year history providing its customers with a service that is both luxe and environmentally conscious. The newly completed South Melbourne salon, designed by sustainable architecture studio Breathe, offers customers a sanctuary-like environment to relax and unwind in, prioritizing wellness and environmental responsibility through a palette of non-toxic and uncomplicated materials.
Breathe's concept for Zucci revolved around not only functionality, but the creation of a space that would nurture their customers, led by the client's passion for naturally derived hair products. Project architect Jacqui Nguyen said the inspiration for the project was twofold: "The first step was to look at Zucci's business approach, where sustainability really drives how they work day-to-day," said Nguyen. Zucci recently partnered with Sustainable Salons Australia to further its eco-friendly ambitions and eliminate salon waste through resource recovery.
"The other aspect of the brief was to reflect how Zucci cares about the wellbeing of its customers. Rather than being a just salon where you go get your hair done, it was about creating a wellness experience that allows customers to pause and be kind to themselves."
Taking inspiration from wellness spaces such as spas and yoga studios, Breathe has imagined Zucci as calm and considered space for self-care. Locally sourced materials were used in the Australian timber cladding and the centrepiece made from blackened steel.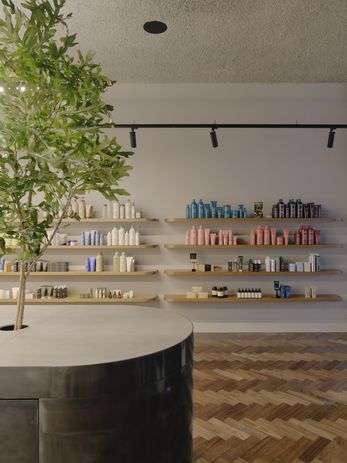 Attention to care also extends to how the salon staff work and move around the space. Hairdressers work on their feet most of the day, and Breathe thoughtfully specified dark-stained herringbone timber parquetry flooring for the salon, which is not only soft underfoot but is also a practical choice for spilled hair dye.
Breathe collaborated closely with Melbourne-based Ambience Lighting to achieve a natural lighting scheme over the cutting bench, with a 270-degree light encircling the customer. "Zucci wanted the lighting as close to natural lighting as possible, and needed to be able to control the lighting space so that it was consistent even on overcast or brightly sunny days," said Nguyen.
The lighting transitions from natural to moody towards the back of the salon, where a sauna-inspired washroom provides a calming space for customers to unwind and put their feet up. The design integrates an acoustic ceiling, made from natural cellulose fibres with 80-percent recycled content and ultra-low volatile organic compounds (VOCs). The textured finish mimics natural stone and softens the hubbub of the salon's central zone.
Breathe's human-centred design approach for Zucci reflects a mutually held commitment to economic and environmental sustainability as well as social responsibility, creating a sensitively built and nurturing space for this family-run salon.