PATNA:
Physiotherapy
is like an "external operation", and has got both the preventive and rehabilitative role in all kinds of musculoskeletal issues, said senior physiotherapist Dr Ratnesh Choudhary on Friday.
Addressing a session at Indira Gandhi Institute of Medical Sciences (IGIMS) to mark the World Physiotherapy Day, Dr Choudhary said, "Physiotherapy is also the treatment in many diseases. Like in ankylosing spondylitis, physiotherapy is the only cure; not doing it can lead to disability. We have cured many patients using physiotherapy, who could not be cured with other forms of treatment."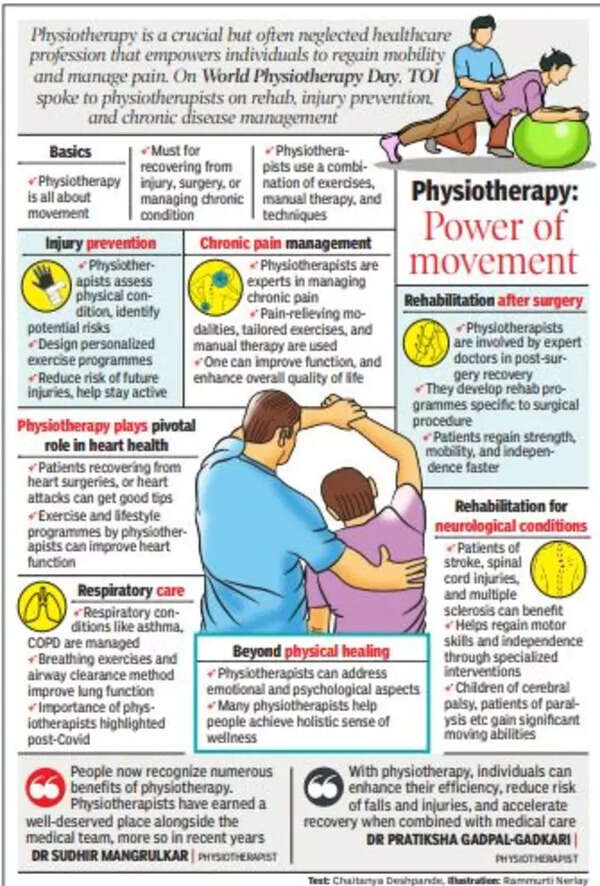 Apart from Dr Choudhary, other experts, who participated in the session, too agreed to the vital role played by physiotherapy in the treatment of several health problems. Dr Manish Mandal, the IGIMS superintendent, said about 150 patients underwent physiotherapy sessions every day for early improvement after major surgeries. "Be it treatments involving surgical interventions, orthopaedic, pulmonary and muscular problems, physiotherapy is the essential follow-up process for faster and longer relief," said Dr Mandal, adding all modern equipment were available at the IGIMS and that its department will soon be shifted to a new building that was under construction on the premises.
Principal Dr Ranjit Guha elaborated the anatomy of ankylosing spondilitis and how to lead a normal life while suffering from the disease.
Dr Arshad Ahmed, rheumatologist said early diagnosis helps in early recovery from any problem, including ankylosing spondilitis.