America's Cup: Recon Diary - Fire Breathing Bull - Sept 21, 2022
by America's Cup Media 21 Sep 20:13 AEST
21 September 2022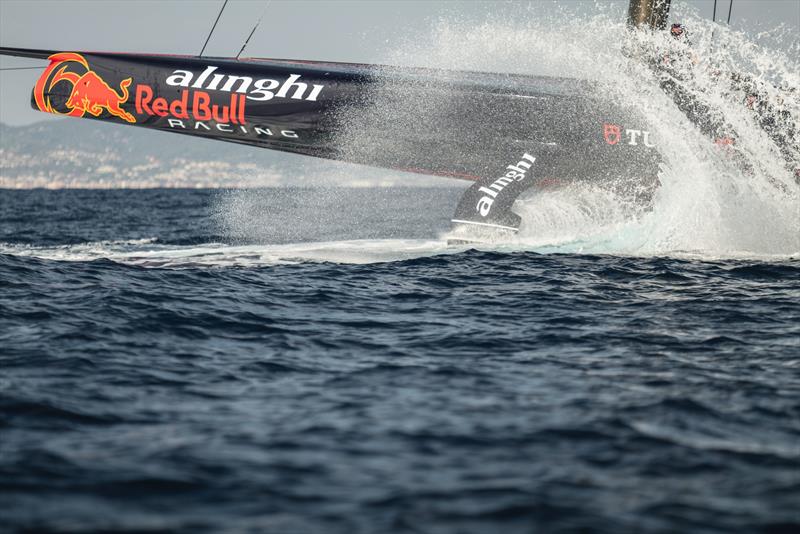 America's Cup Recon - Alinghi Red Bull Racing - B1 - AC75 - D9 - September 2022 © Alex Carabi / America's Cup

The bull is back and looking leaner and meaner with fire-streak decals down her aft hull run-off following the repair post their capsize three weeks ago in an intense thunderstorm.

It's been a busy time for the outstanding shore-team on Alinghi Red Bull Racing who have brought Boat Zero back to the water looking immaculate and ready for action whilst some of the sailing team took the time to compete (and win) in the team's TF35 in Malcesine last week.

Today was a dock-out day as the team went through the exhaustive processes to get flying and step by step Alinghi Red Bull Racing are eking towards that magic moment when they will be flying above those Barcelona waves. Today was another where the systems and controls were being thoroughly tested and resulted in fifteen minutes of displacement sailing on starboard tack.

That was enough and another tick in the box on the exhaustive programme before the sails were lowered and the team embarked on a series of fast run tow tests concentrating on pitch and ride height.

The Swiss are learning fast as Lucien Cujean, a mainstay of the sailing group as one of the jib trimmers explained: "For Swiss sailors this is a new boat, a new configuration so we are going step by step;" but it's tough learning in the full glare of the recon units and with the eyes of the Cup world on their every move.

Double Olympian Cujean, no stranger to big-boat sailing with a Tour de France à la Voile victory on his palmares went on: "well this kind of boat is super, super complex and again we have like two people onboard who have the knowledge." And that experience gap is why the team started so early, the first team to hit the water in this America's Cup cycle. Yes the capsize was a set-back but this is a team with cool-heads everywhere you look and the programme is right back on track.

Next up - foiling in anger. We'll bring it to you when it happens.