Here's your daily update with everything you need to know on the coronavirus situation in B.C.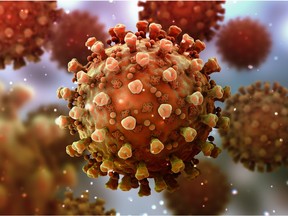 Article content
Here's your daily update with everything you need to know on the coronavirus situation in B.C. for March 30, 2022.
Article content
We'll provide summaries of what's going on in B.C. right here so you can get the latest news at a glance. This page will be updated regularly throughout the day, with developments added as they happen.
Check back here for more updates throughout the day. You can also get the latest COVID-19 news delivered to your inbox weeknights at 7 p.m. by subscribing to our newsletter here.
---
B.C.'S COVID-19 CASE NUMBERS
Here are the latest figures given on March 30:
• Total number of confirmed cases: 356,252
• New cases: 291
• Total deaths: 2,996 (six new deaths)
• Hospitalized cases: 276
• Intensive care: 43
• Total vaccinations: 4,528,240 received first dose (90.8% of eligible pop. 5+); 4,351,830 second doses (87.3%); 2,665,395 third doses (57.5% of those 12+)
• Long-term care and assisted-living homes, and acute care facilities currently affected: Seven
Article content
At this point, hospitalizations and wastewater data are the only ways to gauge the spread of the disease in the community as the Ministry of Health is no longer testing at capacity or tracking or contact-tracing active cases.
Hospitalizations have been falling since early February but have risen slightly over the past few days.
Quarantine program for temporary foreign workers ends March 31
B.C. will be ending its quarantine program for temporary foreign workers brought in to work in the the province's agriculture sector.
In a statement shared Wednesday, officials cited the easing of federal travel restrictions and a 97 per cent vaccination rate among incoming workers as being the reasons for the end of the program.
Article content
Workers arriving in B.C. will travel to their employing farm where it will be the employer's responsibility to ensure federal quarantine guidelines are still met for those who are not fully vaccinated.
The program will end on March 31.
The federally and provincially funded self-isolation program for farm workers, however, will continue. The program reimburses employers a maximum of $3,000 per worker who is required to isolate due to a positive COVID-19 infection or exposure, to cover the cost of accommodations and support. That program will continue until March 2023.
The provincial quarantine program saw 15,000 workers quarantined, with 233 positive COVID-19 cases recorded. Up to 11,000 seasonal workers are expected in B.C. this coming summer.
Article content
–Stephanie Ip
Much of Canada is facing a fresh COVID-19 wave just as authorities ease measures meant to curb the spread of the virus, emboldened by a brief drop in cases and relatively high vaccination rates.
Public health experts are urging caution as COVID-19 levels in wastewater rise. Political analysts say looming elections in Ontario and Quebec, the most populous of Canada's 10 provinces, could deter politicians from reinstating pandemic health measures.
Meanwhile, less testing is making it hard for individuals to do the personal risk assessments politicians are urging.
Most Canadians supported the restrictions and other pandemic measures in place for the past two years, though a vocal minority opposed them, prompting a three-week protest in early 2022 that paralyzed Ottawa and multiple international border crossings. Prime Minister Justin Trudeau invoked emergency powers to end the unrest.
Article content
While the premiers of Ontario and Quebec remain favored to be re-elected in the face of divided opposition, both risk alienating some voters if they impose new measures, pollsters say.
Read the full story here.
— Reuters
Pfizer/BioNTech COVID vaccine slashes pediatric hospitalization risk: U.S. study
Children ages 5 to 11 who received the Pfizer/BioNTech COVID-19 vaccine were 68% less likely to be hospitalized during the Omicron wave in the United States than unvaccinated children, according to a study published on Wednesday.
Adolescents aged 12-18 who received two shots of the vaccine were around 40% less likely to be hospitalized with the Omicron variant of the virus, the study led by scientists from the U.S. Centers for Disease Control and Prevention (CDC) and Boston Children's Hospital found. It was published in the New England Journal of Medicine.
Article content
The risk of more serious outcomes, including need for mechanical breathing assistance or death, was nearly 80% lower for those who received the shots in that age group.
"Infections like COVID and respiratory infections have a range of severity," said CDC researcher Dr. Manish Patel. "But action against severe disease can still be maintained."
The study looked at vaccinated and unvaccinated patients with and without COVID-19 at 31 hospitals in 23 states.
The vaccine performed better against the Delta variant of the coronavirus, which was circulating last year. Vaccine effectiveness against hospitalization in adolescents when that variant was dominant was around 93%, the study found.
The results of the CDC study were better for the younger age group than a study that New York state researchers published in February. That study found the vaccine was around 48% effective in keeping children out of the hospital, with 73% efficacy against hospitalization among adolescents in January of 2022.
Article content
"Most kids that have critical illness were unvaccinated," Patel said. "And we should be able to prevent that with a simple act of vaccination."
— Reuters
U.S. CDC scraps COVID warning for cruise travel after two years
The U.S. Centers for Disease Control and Prevention (CDC) on Wednesday removed its COVID-19 notice against cruise travel, around two years after introducing a warning scale showing the level of coronavirus transmission risk on cruise ships.
The move offers a shot of hope to major U.S. cruise operators such as Carnival Corp, Royal Caribbean Group and Norwegian Cruise Line Holdings Ltd that have struggled to bring in revenue since the pandemic started.
Cruise operators had also said the health agency was discriminating against the industry, when hotels and airlines could operate with limited or no restrictions.
Article content
"While cruising will always pose some risk of COVID-19 transmission, travelers will make their own risk assessment when choosing to travel on a cruise ship, much like they do in all other travel settings," the CDC said in a statement.
The guidelines for traveling on cruise ships on the health agency's page no longer shows a scale for its warning. Instead, it now only says guests should make sure they are up to date with their COVID-19 vaccines before boarding the ships.
— Reuters
One death reported as hospitalizations fall by 15
B.C.'s COVID-19 situation remains stable, with 15 fewer people reported in hospital because of or with the disease.
Latest figures show there are 273 people with COVID-19 in hospital, of which 46 are being treated in intensive care.
Article content
One person has died from the disease over the past day – in the Northern Health district.
B.C. is reporting 287 new cases of COVID-19, for a total of 355,935 cases in the province.
A sub-variant of the highly transmissible Omicron version of coronavirus known as BA.2 is now dominant worldwide, prompting surges in many countries in Europe and Asia and raising concern over the potential for a new wave in Canada and the U.S.
BA.2 now represents nearly 86 per cent of all sequenced cases, according to the World Health Organization. It is even more transmissible than its highly contagious Omicron siblings, BA.1 and BA.1.1, however the evidence so far suggests that it is no more likely to cause severe disease.