THIS ARTICLE/PRESS RELEASE IS PAID FOR AND PRESENTED BY
The Norwegian School of Sport Sciences
- read more
An anterior cruciate ligament (ACL) injury is a serious knee injury that can have major consequences in both the short and long term. Good treatment is therefore important in order to ensure the best possible prognosis.

When a cruciate ligament ruptures: what factors are important in a course of treatment? Is an operation necessary, or would rehabilitation be enough? What is best for individual patients? And what factors can predict or contribute towards some patients getting better results than others?
These are some of the questions Marie Pedersen has been trying to answer in her doctoral thesis.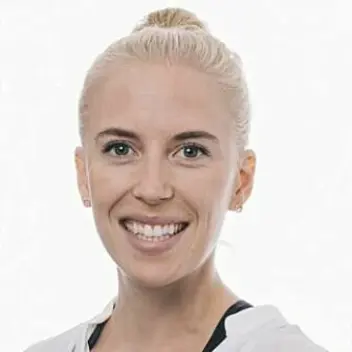 Optimising results after an ACL injury
Pedersen trained as a physiotherapist at Sør-Trøndelag University College (2009-2012) and subsequently completed her Master's degree in sports physiotherapy at the Norwegian School of Sport Sciences in 2017.
Since then, she has been working as a clinical physiotherapist at NIMI. She is particularly interested in the rehabilitation of knee injuries.
She has taken a closer look at treatment and prognoses after an anterior cruciate ligament injury, a so-called ACL injury.
"We still have a fair amount to do in order to optimise the results of ACL injuries, and this project is contributing towards increasing our knowledge about which factors are important in a course of treatment, as well as the expected course and prognosis for patients with anterior cruciate ligament injuries," Pedersen explains.
ACL
The ACL (Anterior Cruciate Ligament) is a ligament that stabilises the knee and prevents the calf bone from moving relative to the thigh bone. The cruciate ligament is also important for neuromuscular control of the knee.
During ACL reconstruction, the patient's own tendon tissue is used to create a new cruciate ligament. This is a comprehensive procedure that requires a long period of rehabilitation afterwards.
Affects around 4,000 Norwegians every year
ACL injuries are the most frequently occurring serious knee injuries in the world, with around 4,000 people in Norway alone being injured each year. The following treatment methods for ACL injuries are currently being used:
Early ACL reconstruction with pre- and postoperative rehabilitation
ACL reconstruction with pre- and postoperative rehabilitation
Rehabilitation alone, but with the possibility of late ACL reconstruction in cases of instability
Current studies show more or less the same outcomes after treatment involving either ACL reconstruction treatment or rehabilitation alone for ACL injuries.
However, ACL patients are a heterogeneous group of patients and one treatment does not necessarily suit everyone.
More studies required
The choice between ACL reconstruction and rehabilitation alone is also just one part of a course of treatment: pre- and postoperative rehabilitation, surgical indications and patient information are also important.
According to Marie Pedersen, we therefore need studies to evaluate the results of comprehensive treatment options that include all these factors.
In order to optimise individual treatment, increased knowledge is also needed about how the course of treatment for different patients could vary after injury/surgery, and also which factors might be important for future knee function.
In Pedersen's research, the aim was twofold:
The first part of the project involved evaluating knee function, physical activity and incidences of osteoarthritis five years after injury or surgery among all patients in the project.
Furthermore, the first part involved investigating who chose the various treatment methods, and whether or not the different treatment methods produced different results.
Part two of the project involved investigating whether or not there are subgroups of patients who develop different knee functions over time after injury/surgery, as well as identifying which factors could be important for the results.
Part of a bigger project
Pedersen's PhD is part of a larger project, "The Delaware-Oslo ACL Cohort Study" which has followed 276 patients with first-time ACL injuries over five years.
All the patients followed a specific treatment algorithm consisting of the following items:
A five-week rehabilitation program with progressive strength exercises and neuromuscular exercises to improve knee function before making a treatment choice (surgery vs. rehabilitation alone). They also underwent functional knee tests.
The patients received information and chose their treatment with the help of their physiotherapists and orthopaedic surgeons (informed shared treatment choice). Surgery was recommended if they had experienced instability during activity, or if they wanted to return to torsional activities (e.g. football and handball).
Further rehabilitation, functional testing and clear functional criteria before returning to sport.
Based on the treatment choices, patients were compared in respect to knee function, physical activity and incidences of osteoarthritis.
Good five-year outcomes
Of the patients who participated in the study, 64 per cent underwent early ACL reconstruction, 11 per cent late ACL reconstruction and 25 per cent had only rehabilitation as a treatment method.
The treatment algorithm used in this study showed good five-year outcomes in respect to knee function, physical activity and incidences of osteoarthritis for all three treatment groups.
There were no statistically significant differences between the treatment groups.
Furthermore, four subgroups of ACL patients were identified based on changes in patient-reported knee function over time:
Low: Poor knee function early after the injury and no/little improvement (8 per cent of patients)
Moderate: Poor knee function early after the injury, but great improvement and good long-term results (51 per cent of patients)
High: Relatively good knee function early after the injury, as well as great improvement and good long-term results (38 per cent of patients)
High before decreasing: Relatively good knee function early after the injury, but deterioration in the long term (3 per cent of patients)
Additional meniscus injuries and new knee injuries were important factors in those patients who were members of the two subgroups with the poorest knee function (low and high before decreasing).
However, good results for functional tests undertaken at an early stage following injury were important factors in the subgroup with the best knee function (high).
Can be implemented in the treatment of ACL patients
"The good project results support the use of the treatment algorithm that we have used," Marie Pedersen summarises.
Treatment includes high quality pre- and postoperative rehabilitation, functional testing, patient information and informed shared treatment choices, as well as surgery indications based on knee function and activity level.
The project shows that rehabilitation alone also works well for some patients.
"This treatment algorithm can serve as a good example that can be implemented in the clinical practice of clinicians treating ACL patients," Pedersen concludes.
Reference:
Marie Pedersen. Long-term clinical, functional, physical activity, and radiographic outcomes after anterior cruciate ligament reconstruction or rehabilitation alone, Dissertation from the Norwegian School of Sport Sciences, 2022.