TLC's 1000-Lb. Sisters Season 4 shows fans how Amy and Tammy Slaton's lives have progressed. While Amy is pregnant with her second baby, Tammy is back in rehab after feeling unwell. In episode 2 of the season, Tammy spoke to her therapist about setting "boundaries" with some of her friends in the facility. Here's why.
'1000-Lb. Sisters' Season 4 shows Tammy Slaton back in a rehabilitation facility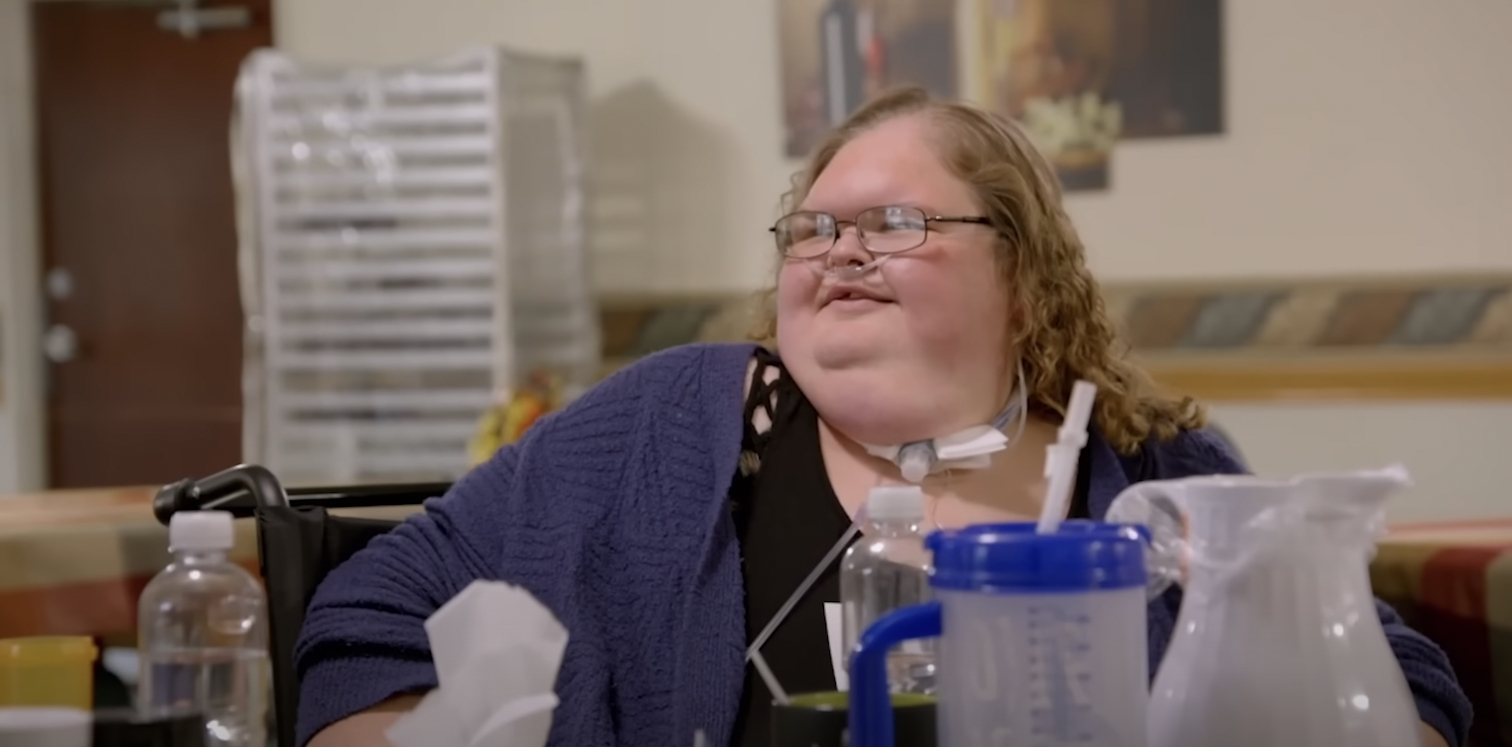 1000-Lb. Sisters Season 4 began with Tammy Slaton wanting to head back to a rehabilitation facility. Tammy mentioned how she didn't feel well, prompting her to get help. However, once she arrived, she needed immediate medical attention. She was quickly transferred to the hospital after she had trouble breathing.
"She had quit breathing," Chris Combs said. "They didn't know if she was going to make it through the night."
Thankfully, Tammy made it through. The doctors inserted a tracheotomy to help her get direct oxygen into her lungs, though she described the process as "rough." She then headed back to Windsor Lane Health Care and Rehabilitation Center to continue to attain counseling and lose weight so she can get bariatric surgery.
She told her therapist she had to set 'boundaries' with her friends
By 1000-Lb. Sisters Season 4 Episode 2 shows Tammy Slaton talking to her therapist. Tammy made friends in her rehab facility, and she noted she appreciated developing friendships with others who dealt with similar issues as she did. The Slaton sister also said her friendships helped her most when she was missing her sister, Amy Slaton, and her nephew, Gage.
While talking to her therapist, Tammy mentioned she was working on establishing and keeping boundaries with some of her new friends. She said she was "being mindful of how much" she can "handle," which didn't just include food. This included "knowing" her "limits" of "exercise" and "boundaries."
The therapist was happy to hear Tammy discussing upholding boundaries.
"There's been many a times where my friends here at the facility went and got fast food," Tammy continued. "I come very close to going and eating with them. But at the last minute I pulled out and said no. So, I'm learning every day that I'm stronger than what I thought."
Tammy said it felt good for her counselor to feel proud of her progress.
Where is Tammy Slaton now?
Fans noticed that Tammy Slaton seems to have made great strides in her life since TLC filmed 1000-Lb. Sisters Season 4. Tammy appears to have lost a significant amount of weight and married the love of her life, whom she met at the rehab facility.
So, where is she now? It looks like she's still in rehab working on herself. Her TikToks show she's still living at Windsor Lane Health Care and Rehabilitation Center along with her husband, Caleb Willingham. Tammy told her followers she can't yet elaborate on all of the personal progress she's made, as she remains under contract with TLC. But fans will see more of her progress throughout the season.
1000-Lb. Sisters Season 4 airs Tuesdays at 9 p.m. ET on TLC.
For more on the entertainment world and exclusive interviews, subscribe to Showbiz Cheat Sheet's YouTube channel.