Viavi Solutions Inc. VIAV recently unveiled the latest edition of its report — "The State of 5G". The report contains significant data that showcases the rapid deployment and adoption of the fifth-generation or 5G technology across several countries.
As a global provider of network test and monitoring solutions to enterprises, communications service providers and government customers, Viavi capitalizes on state-of-the-art technologies such as network slicing, Massive MIMO and network function virtualization for reliable 5G installations in a phased manner.
Markedly, the company is widely recognized as a driving force in 5G, thanks to its accretive partnerships with some of the world's leading network equipment manufacturers. Its portfolio of wireless test 5G solutions consists of brands such as NITRO Mobile, 3Z RF Vision, TeraVM and CellAdvisor, to name a few.
Interestingly, the San Jose, CA-based company's wireless and fiber test solutions are in the early stages of a multi-year investment cycle. Its investment efforts are bolstered by the transition of Original Equipment Manufacturers and service providers to superfast 5G networks.
Per the report, a total of 1,662 cities across 65 countries have witnessed the presence of commercial 5G services, including the newly added 301 cities and four countries — Peru, Russia, Cyprus and Uzbekistan — as of June 2021. Markedly, the figure reflects more than 20% increase since the beginning of 2021.
Country wise, China leads the 5G coverage race with 376 cities followed by the United States (284) and Philippines (95). Region wise, Asia-Pacific tops the scoreboard with 5G technology in 641 cities, followed by Europe, Middle East and Africa (623) and the Americas (398).
The convergence of network technologies requires significant investments from both traditional carriers (telecom and cable) and cloud service providers. Hence, in order to spur cutting-edge technology development, 5G will augment the scalability, security and universal mobility of the telecommunications industry, which is expected to propel the wide proliferation of IoT.
Notably, the 5G transition is expected to be disruptive, creating new avenues for industries across the board. As a result, the telecom firms are facilitating its customers to move away from an economy-of-scale network operating model to demand-driven operations and seamlessly migrate to 5G by offering easy programmability and flexible automation.
With such considerable surge in 5G rollouts, Viavi remains confident of establishing a streamlined connectivity infrastructure while highlighting the significance of network assurance and optimization globally. The company will also participate in the O-RAN ALLIANCE Industry Summit to discuss the latest industry updates on the progress of the O-RAN concept.
Viavi's solutions are well positioned to meet these rapidly changing industry trends, given its technology prowess, product depth and wide customer base. Boasting a comprehensive product portfolio that offers end-to-end network visibility and analytics, it anticipates leveraging major secular growth trends in 5G wireless, fiber and 3D sensing to achieve higher revenues and profitability with greater flexibility in the capital structure.
The Zacks Rank #3 (Hold) stock has gained 40.8% compared with the industry's growth of 59.9% in the past year.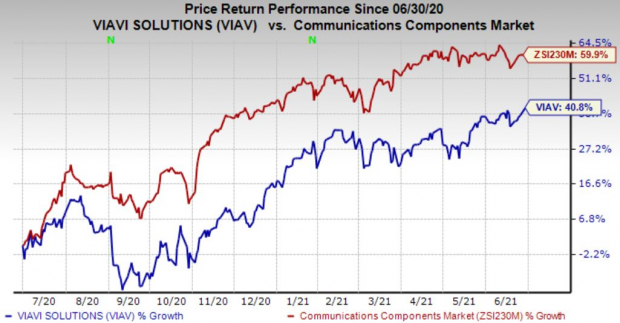 Image Source: Zacks Investment Research
Some better-ranked stocks in the broader industry are Ooma, Inc. OOMA, SeaChange International, Inc. SEAC and Nokia Corporation NOK, each carrying a Zacks Rank #2 (Buy). You can see the complete list of today's Zacks #1 Rank (Strong Buy) stocks here.
Ooma delivered a trailing four-quarter earnings surprise of 65.5%, on average.
SeaChange International delivered a trailing four-quarter earnings surprise of 12.2%, on average.
Nokia delivered a trailing four-quarter earnings surprise of 215.2%, on average.
+1,500% Growth: One of 2021's Most Exciting Investment Opportunities
In addition to the stocks you read about above, would you like to see Zacks' top picks to capitalize on the Internet of Things (IoT)? It is one of the fastest-growing technologies in history, with an estimated 77 billion devices to be connected by 2025. That works out to 127 new devices per second.
Zacks has released a special report to help you capitalize on the Internet of Things's exponential growth. It reveals 4 under-the-radar stocks that could be some of the most profitable holdings in your portfolio in 2021 and beyond.
Click here to download this report FREE >>
Nokia Corporation (NOK): Free Stock Analysis Report
SeaChange International, Inc. (SEAC): Free Stock Analysis Report
Viavi Solutions Inc. (VIAV): Free Stock Analysis Report
Ooma, Inc. (OOMA): Free Stock Analysis Report
To read this article on Zacks.com click here.
The views and opinions expressed herein are the views and opinions of the author and do not necessarily reflect those of Nasdaq, Inc.