Ascendis Pharma A/S ASND announced that the FDA has extended the review period of its biologics license application (BLA) for its long-acting growth hormone treatment candidate, lonapegsomatropin, by three months.
Please note that the company had submitted the BLA in June last year seeking approval for the candidate in pediatric growth hormone deficiency (GHD) patients. A decision from the FDA was expected on Jun 25. Following the extension, a decision related to potential approval for the candidate is expected by Sep 25.
The company mentioned that the FDA had previously requested for additional data during the review of the BLA. The company has already submitted the required data to the regulatory authority, which deemed the information as major amendment to the BLA and will require additional time for review. Hence, the FDA extended the review period.
The company has been preparing for launch of the candidate in the third quarter, which should get delayed due to this extension. A regulatory application seeking approval for lonapegsomatropin for pediatric GHD is under review in Europe. A decision is expected in the fourth quarter of 2021.
Pediatric GHD is a serious orphan disease, which is caused when the pituitary gland does not produce enough growth hormone.
Shares of Ascendis have declined 21.9% so far this year against the industry's increase of 1.1%.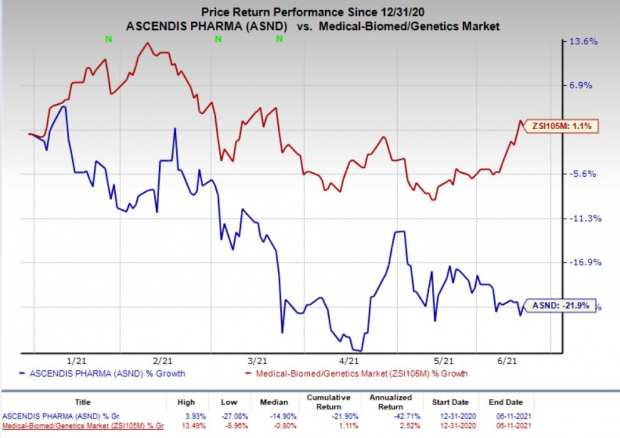 Image Source: Zacks Investment Research
The company has developed lonapegsomatropin using its innovative technology platform, TransCon, designed to create new therapies that optimize therapeutic effect. Meanwhile, we note that lonapegsomatropin enjoys Orphan Drug designation for GHD in both the United States and Europe. However, some large as well as small biotechs are also engaged in developing treatment for GHD including Novo Nordisk NVO, Pfizer PFE and I-Mab Biopharma IMAB.
Apart from lonapegsomatropin, the company is also evaluating multiple other pipeline candidates developed using TransCon. Key among them include, TransCon CNP and TransCon PTH. A phase II study is evaluating TransCon CNP for the treatment of achondroplasia, the most common form of dwarfism. TransCon PTH is being evaluated in a phase III study as a potential treatment for hypoparathyroidism in adult patients. Top-line data from the late-stage study is expected in the fourth quarter of 2021.
Ascendis Pharma AS Price
Ascendis Pharma AS price | Ascendis Pharma AS Quote
Zacks Rank
Ascendis currently carries a Zacks Rank #3 (Hold). You can see the complete list of today's Zacks #1 Rank (Strong Buy) stocks here.
Bitcoin, Like the Internet Itself, Could Change Everything
Blockchain and cryptocurrency has sparked one of the most exciting discussion topics of a generation. Some call it the "Internet of Money" and predict it could change the way money works forever. If true, it could do to banks what Netflix did to Blockbuster and Amazon did to Sears. Experts agree we're still in the early stages of this technology, and as it grows, it will create several investing opportunities.
Zacks' has just revealed 3 companies that can help investors capitalize on the explosive profit potential of Bitcoin and the other cryptocurrencies with significantly less volatility than buying them directly.
See 3 crypto-related stocks now >>
Pfizer Inc. (PFE): Free Stock Analysis Report
Novo Nordisk AS (NVO): Free Stock Analysis Report
Ascendis Pharma AS (ASND): Free Stock Analysis Report
IMab Sponsored ADR (IMAB): Free Stock Analysis Report
To read this article on Zacks.com click here.
The views and opinions expressed herein are the views and opinions of the author and do not necessarily reflect those of Nasdaq, Inc.